Only one-in-four Americans fit to serve in the military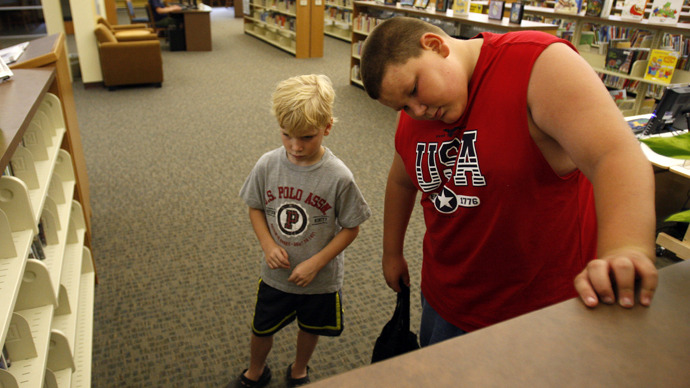 Most Americans are ineligible to join the military, either because they're drug users, obese, medically unfit, failed to graduate high school, or have criminal records. The Pentagon estimates that only 25 percent of Americans are qualified.
Military officials claim that they are able to be more selective, largely because the high youth unemployment rate and the drawdowns in Iraq and Afghanistan have prompted more people to apply.
"There's a lot more competition," Sergeant First Class Israel Herrera told CNN. "There are not many opportunities out there, but the Army provides employment and stability, and that makes it an attractive option."
But for the overwhelming majority of US citizens, joining the military has become difficult – especially amid continuously rising obesity rates and high unemployment.
More than 20 percent of high school students drop out before their graduation, 35 percent of Americans are obese or medically disqualified, 19 percent are drug or heavy alcohol users, and 5 percent have criminal records. These factors bar Americans from joining the military, and only one quarter of today's youth are fit to join, the Pentagon estimates.
"Before 2009, we would probably be able to give you an example of a young man or young woman who got in with a simple possession of marijuana charge," Herrera said. "They would not get a waiver these days."
Six years ago, only 86 percent of new military recruits had a high school diploma, but today 99 percent of all new recruits have one. In 2005, the military suffered a shortage of new enlistees, while in recent years it has always had a surplus.
The trend has caused some to wonder if an improved economy would lower recruiting standards, since the poor economy has allowed the military to be selective.
"As we see signs of economic improvement, we must remain vigilant and continue to monitor impacts on our recruiting efforts," Acting Under Secretary of Defense Jessica Wright told the Senate Armed Forces Committee last month.
But even if the military accepts less qualified Americans, the Pentagon estimates shed an alarming light on the numbers of people who are too overweight or uneducated to serve the country even if they wanted to.  
With many Americans ineligible to join the military due to obesity, some members of Congress are trying to address the problem. Sens. Mark Udall (D-Colo.) and Lisa Murkowski (R-Alaska) on Thursday introduced the Fit to Serve Act, which will provide support for military leaders who want to provide their base's sports fields and gyms to youth who need a place to exercise.
The US military discharges more than 1,200 first-time enlistees every year due to weight gain, and nearly one in 20 current service members are clinically overweight, the senators wrote in a press release.
"Obesity is the single greatest non-criminal hindrance for our young people seeking to enlist in the armed forces," Sen. Murkowski said. "We want our young women and men to seek to serve their country to have basic information on what healthy weight means."
You can share this story on social media: