Virginia man protests Obama's immigration reform with Nazi flag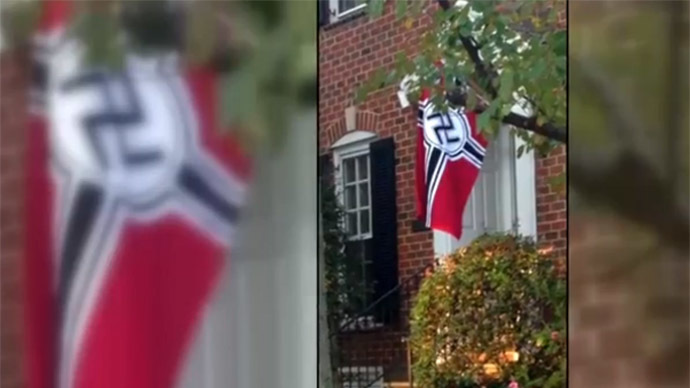 ​An anti-Obama protest waged by an outraged resident of Norfolk, Virginia has raised eyebrows after the individual took to flying a Nazi flag outside his home to declare his disappointment with the president's policies.
Dr. William Wheeler told WTKR News that he decided to hang the swastika-embroidered flag outside his southern Virginia home last week after President Obama announced an executive action concerning immigration reform on Thursday night.

"I am not a Nazi. I am half-Jewish," Wheeler told the network last Friday. "I hung the flag after watching President Obama last night. Obama usurped his Oath of Office. I wanted people to be shocked because I am offended."

Expectedly, Wheeler's rather unorthodox protest quickly pushed the buttons of other residents in Norfolk's Ghent neighborhood.

"You have every right to fly that flag, you do," neighbor Beth Brooker told Wheeler in a video posted to Facebook. "But I also think you need to understand how offensive it is."

"It's offensive when one person tried to change the rule of law on his own and that's what this states," Brooker said.

"I wanted to have a dialogue with him as to why he hung that hate flag out in the neighborhood," she told a local CBS affiliate. "It's amazing how somebody can have so much hate in them and feel it's okay to express themselves. Granted, there's freedom of speech. He can do and say whatever he wants to, but I think you need to have some respect for people in this country. And that flag represents nothing but hate."

Wheeler told local reporters that he decided to hang the flag after hearing that Pres. Obama would take executive action to provide upwards of five million undocumented immigrants with American citizenship after efforts undertaken throughout his administration have routinely been stalled in Congress. Now with Republicans soon having a majority representation in both the House and the Senate as a result of the recent midterm elections, Pres. Obama said that his order will at last revamp the nation's immigration rules while at the same time hopefully kick start the new, GOP-controlled Congress to pass legislation on its own.

"If [Congress] want to get a bill done, whether it's during the lame duck or during next year, I'm eager to see what they have to offer," the president has said of his order. "What we can't do is just keep waiting. There is a cost to waiting."

But while Wheeler said he wanted his statement to show disgust at the president, neighbors say the swastika is all too anti-Semitic, regardless of what the outspoken resident says about his reasoning.

"You're a Jew, you're driving down the road and you see a Swastika. You immediately assume that is some kind of anti-Semitic statement being made," Sherene Silverberg of Norfolk told a local NBC affiliate.

"Here's this squirming little coward putting up a flag to remind us all what was done to our people," she said. "When we saw that flag is like being kicked in the belly by a horse."

According to WVEC-TV, Wheeler offered to fully explain himself for a report being produced by the network, but rescinded his offer when the station refused a written agreement in which it would be promised that he could view the segment before it aired.

Wheeler did, however, tell WTKR that he is offended by bumper stickers with the president's name on them, and that his goal was achieved if people were indeed shocked by his flag.