Endless war? US increases number of troops in Afghanistan yet again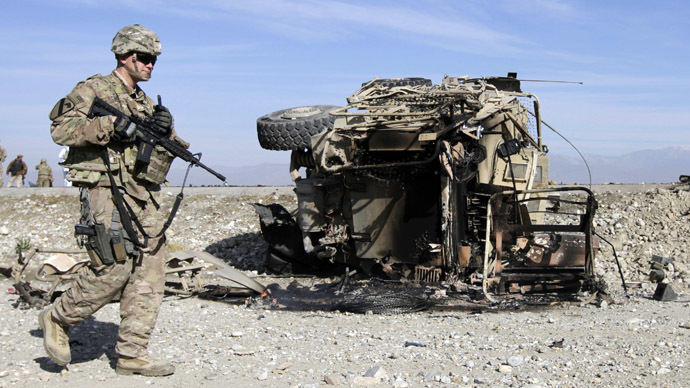 In a dramatic about-face, the US is considering increasing the number of troops in Afghanistan by up to one thousand in 2015, several sources told Reuters. The plans follow President Obama's secret order to widen the US military's role in Afghanistan.
Though the final numbers are still being discussed, Washington may provide up to one thousand more servicemen to NATO's mission in Afghanistan, according to one of the news organization's unidentified sources. The expansion was confirmed by two more sources, also saying it will depend on the gap left in the NATO mission by other contributing nations.
Earlier, President Obama promised US forces would not participate in combat missions in the country, staying there only to train and provide logistical support to Afghan Security Forces. However, a Reuters source said the move comes over fear of losing the mission's bases in the country torn by internal conflict.
Under the new US commitment, the troops are reportedly to remain until other nations fulfill their pledges later in the year, or the troops are no longer needed.
The extra US troops will be assigned to NATO's new 12,000-strong force mission called Resolute Support. The reported plans to increase US military presence surfaced after Obama secretly signed an order recently that expands the country's direct combat role in Afghanistan throughout 2015 – after the mission expires.
READ MORE: Obama secretly extends US combat operation in Afghanistan
According to the order, US forces aided by jets, bombers, and drones will continue to battle the Taliban and other militants posing a threat in the country. Ground troops could also join Afghan forces under Obama's quietly approved guidelines.
In apparent support of the move, on Sunday, the new "NATO-friendly" Afghan government ratified an agreement allowing the International Security Assistance Force (ISAF) to maintain thousands of troops beyond 2014. Afghan President Ashraf Ghani signed the deal after taking office in September, putting an end to periodic quarrels between Washington and former president Hamid Karzai, who refused to sign.

However, Afghan lawmakers made specific mention of Obama's expansion of America's military role in the agreement.

Earlier this year, the US president announced that American troops would be cut to 9,800 by the end of the year as the Western mission is winding up its operations in the country. He added that in 2015 the figure is expected to be cut in half, and by 2016 reduced to a normal embassy presence with security assistance.

"There will be 9,800 troops, plus at least a few hundred above and beyond that," the same source told Reuters. Of these 9,800, some 8,000 are intended for the NATO force and the remainder for a separate anti-terrorism operation.
You can share this story on social media: