Homeless Texan becomes YouTube star after filming what it's like to live on street (VIDEO)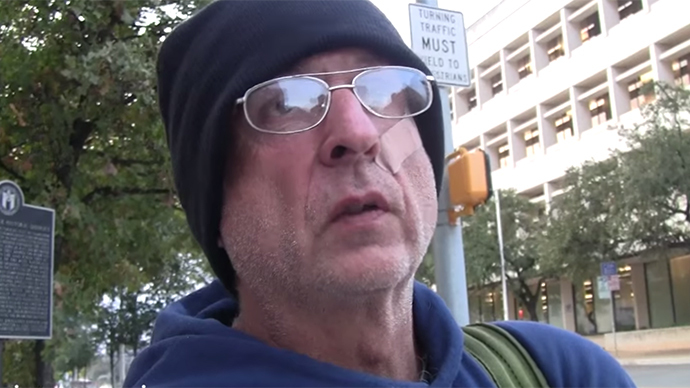 ​Filmmakers from Austin, Texas are trying to raise money for a homeless man who is making waves after he recorded a seven-minute video about his day and uploaded it to YouTube.
The "Homeless Man Records His Daily Life" clip published on the video-sharing site on Sunday offers a rare and intimate glimpse into the routine happenings of Sandy Shook, a white-haired homeless man who lives on the streets of the Lone Star State capital.
Joseph Costello, an area filmmaker who provided the video camera to Shook, previously recorded footage with the man and shared it online. This time, the team is seeing a resounding response from viewers who've been moved by Shook's very revealing and real self-narrated story.
Speaking to the camera during the clip, Shook explains that he thinks of himself as far different from the stereotypes that often stigmatize the homeless.
"I don't really feel good," Shook says. "I'm a homeless guy, which puts me with alcoholics and the narcotics users. And I have a degree in computer science. And I've never been an alcoholic."
Shook previously told an Austin Fox News affiliate on the heels of a previously released Costello-directed clip that he landed on the streets and stayed because of a struggle with depression.
"I grew up in the 70's in my high school years, early college years, and homeless people were almost nonexistent and now there's just so many. Now I'm one of them," he added then.
Now in the latest upload, Shook explains that an alleged incident with a religious group decades ago left him emotionally damaged.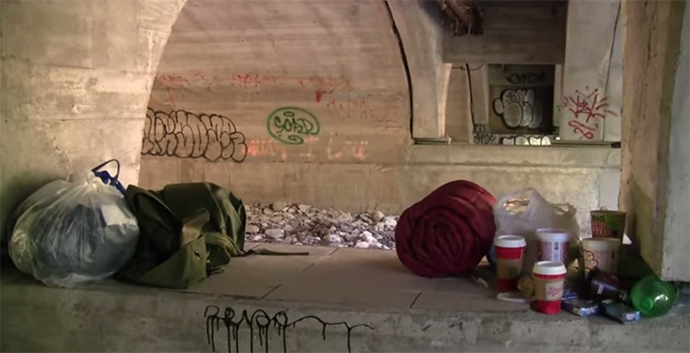 "What happened was when I was 24 years old, I joined a church. I was a very devout Christian at that time. And it was one of those mind-control groups [where] nobody gets out until you're completely crazy," he claims.
Costello, who considers his latest video with Shook to be "very real" and "emotional," says the support he's seen on YouTube in the recent days prompted him to launch a crowdfunding site that he hopes will help Shook get the money to return to his home state of Michigan where he'd move in with family members and begin searching for employment. By Wednesday, the video has been watched on YouTube more than 131,000 times.
The most recent edition of the Annual Homeless Assessment Report (AHAR) to Congress, a product of the United States Department of Housing and Urban Development, determined that around 610,000 people were sleeping on the street during any given night in January 2013. This week, the National Center on Family Homelessness said a more recent report suggests that 2.5 million children were homeless in 2013.