Ferguson officer accused of raping pregnant woman in custody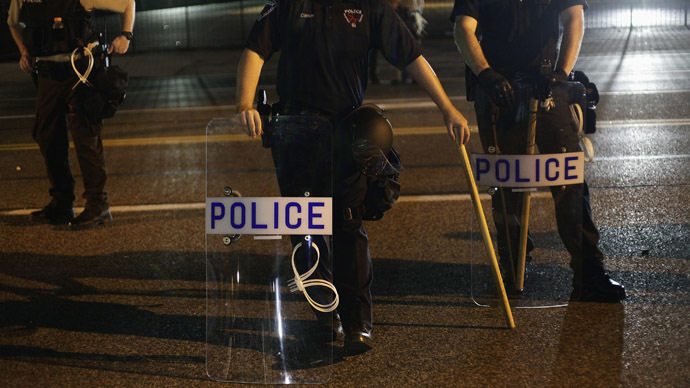 A 29-year-old correctional officer in Ferguson, Missouri, has been accused of raping a pregnant woman while she was in his custody, and then setting her free.
A federal lawsuit has been launched, and the officer Jaris Hayden, has been so far released on $10,000 bail.
In the legal documents obtained by the Huffington Post, it is said that the victim, known as JW, was arrested last October after police stopped her for an expired license plate, and she also gave the officers a false name.
The victim claims Hayden frequently sexually harassed her before the rape. For instance, when taking her to Ferguson jail, he said, "You smell good" and "This will teach you a lesson."
JW was visibly pregnant at that time.
When in the cell, JW was crying and begged to let her go home. Hayden allegedly said to her that she was "the kind of girl who would get me in trouble" and took the woman to the boiler room, unbuttoning his pants and told the victim that they were to have oral sex.
Afterwards, the suit papers say that Hayden bent the pregnant woman over and "indicated that he was going to have intercourse with her."
Then, she went to the emergency room. During sex, the victim got some of the officer's pubic hair, which a DNA test confirmed was Hayden's.
After the intercourse, Hayden allegedly told JW to escape and "stay close to the building" to avoid CCTV cameras.
The woman, who doesn't wish to be identified, is now suing for several damages including "fear of police", "anxiety over sex" and "mental suffering", USA Today reported.
Hayden will appear in court on December 3.
The suit also focuses on the general police brutality in Ferguson, including the recent shooting of unarmed Michael Brown which triggered popular protests across the US.
"Discovery will produce other acts of violence, all contributing to a pattern and practice of allowing violence and sexual assault on members of the public. The numerous acts of violence against the citizenry by law enforcement of the City of Ferguson constitute a pattern," the document states.
You can share this story on social media: