Worst in memory: 8 killed as ferocious cold 'thunder' snowstorm sweeps through US (PHOTOS, VIDEO)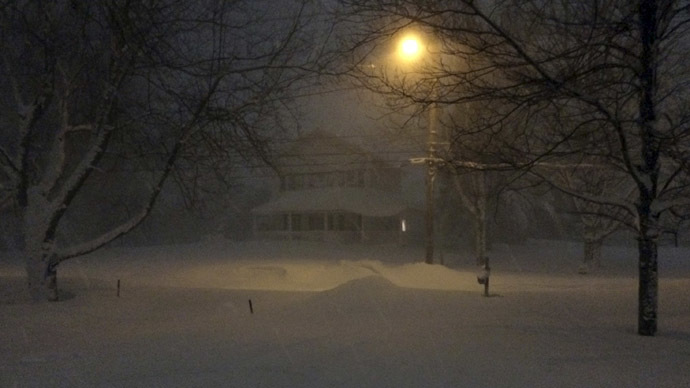 Record-breaking cold weather with freezing temperatures is sweeping through US states. A huge "thunder" snowstorm slammed the US state of New York, killing at least eight people, and bringing some six feet of fallout.
Arctic air made this Tuesday morning the coldest in November since 1976 in the USA. Even in Hawaii, the temperature dropped to +31 C. Over the past week the country's cities and towns have seen 1,360 daily low maximum records, Boston news website reports.
Meteorologists say that this kind of weather is much more typical for January or February. According to the National Weather Service, over half of the country –50.2 percent – saw snow on the ground that day.
"That is somewhat of an extreme event," Dave Zaff, a meteorologist from the National Weather Service, told AFP. "From a forecast standpoint, it will be historic."
Snow plows trapped in the snow.-DK pic.twitter.com/igkxOEoNw5

— Interpol (@Interpol) November 19, 2014
Some parts of our county are going to receive a years worth of snowfall in three days.

— Mark Poloncarz (@markpoloncarz) November 19, 2014
#SouthBuffalo#LakeEffect#Snowpocalypsepic.twitter.com/NXt8OcMCQC

— Katie (@tino84) November 18, 2014
The city in the state of New York that suffered particularly hard was Buffalo, where authorities had to issue a ban that eased road-clearing by allowing only emergency vehicles to travel.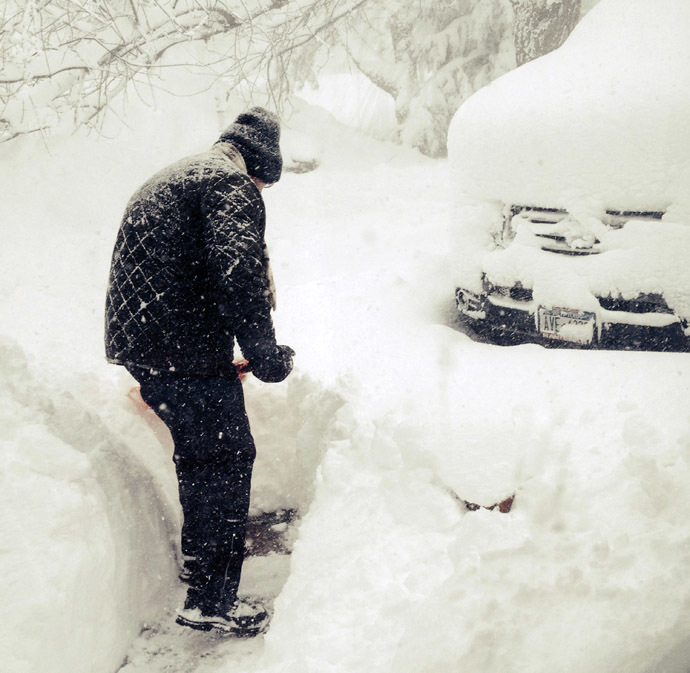 In Buffalo one person died in a vehicle accident, while three others suffered cardiac arrests as a result of shoveling snow on Tuesday, Erie County officials said, AP reported.
One of them was an 81-year-old man whom couldn't get to the hospital in time. Another victim of the storm was a man found dead in his car on Wednesday morning.
Two other deaths in the states of New Hampshire and Michigan, local media reported.
Before just now I haven't seen snowfall all day. 0-60 in 3.4 seconds. pic.twitter.com/ZJ4nu3nqqz

— Brian Mazurowski (@BMaz1) November 19, 2014
Meanwhile, in Buffalo pic.twitter.com/JWR53tyS4f

— Alex Fitzpatrick (@AlexJamesFitz) November 18, 2014
For nearly a day people were trapped inside their homes or stranded in cars, and roadways turned into parking lots of abandoned vehicles. Dozens of people sought shelter inside a fire station or spend a night inside a local police station.
Literally the snow is crashing through homes in Buffalo! @10weather@ABC@AriWeather@Ken_Brewerpic.twitter.com/rzUl4GR5Qf

— Sherri Grin (@SherriGrin) November 19, 2014
View of the wall of snow clouds coming into Buffalo pic.twitter.com/rWuNL4OGEq

— John Murgatroyd (@murgcnn) November 18, 2014
@NewsRadio930 How about these pictures taken from one of the few flights leaving Buffalo this AM pic.twitter.com/P5qel5ckgw

— Jeffrey Suhr (@JeffreySuhr) November 18, 2014
"We have tried to get out of our house, and we are lucky to be able to shovel so we can open the door," Linda Oakley of Buffalo told AP. "We're just thinking that in case of an emergency we can at least get out the door. We can't go any further."
Hey @JimCantore my wife is 5'7" I'd say we're at 4 feet in Lancaster, NY and still coming! pic.twitter.com/7iUDaRpfTg

— Jeff Schaefer (@jeffschaef) November 18, 2014
Uh. Wow. Alden, NY. Posted by Shannon L Roetzer to @Wgrz FB page. #LakeEffectpic.twitter.com/odyCcxFTcL

— Tim Ballisty (@IrishEagle) November 18, 2014
Hello? Is there a car under there? Took 2 hours to dig out. Still no plow in Lancaster. #buffalo#snowpic.twitter.com/DKnPfd1LdC

— Melaine Kenyon (@alibrarian) November 18, 2014
In a three-day period a year's worth of snow is going to come down – with another storm expected on Thursday in the state of New York.
How would you like to open your front door and see this? East Lancaster, NY… Photo from Tara Schwab #nywxpic.twitter.com/tzkaBcVNJp

— James Spann (@spann) November 18, 2014
This State Police car has been stuck on Crittenden Rd in Alden since before 3 a.m. @WGRZ#WGRZsnowpic.twitter.com/Z4m8qW0D2N

— Heather Ly (@HeatherLyWGRZ) November 18, 2014