Missouri governor unable to explain who's in charge in Ferguson (AUDIO)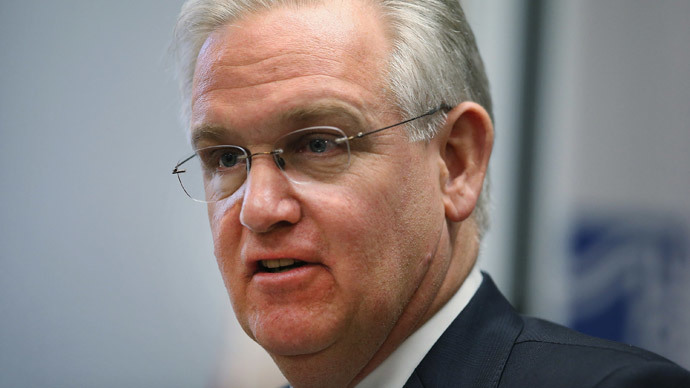 ​The governor of Missouri activated the National Guard on Monday ahead of what could be a new wave of mass protests, but doesn't seem certain at all about who will be in charge of law enforcement operations in the coming days.
Gov. Jay Nixon's decision to call up the Guard and declare a state of emergency raised questioned on Monday about what authorities are anticipating will happen when a federal grand jury will decide — likely within days — whether or not to indict Ferguson, MO police officer Darren Wilson on charges related to the August shooting death of Michael Brown, an unarmed black teen.
Nixon was largely unable to provide answers during a telephone press conference that occurred with reporters later that day, though. Audio of that teleconference captured by Guardian journalist Jon Swaine is now causing concerns to mount further as reporters realize that the governor might have less of a grasp on the situation in Ferguson than many would like to believe.
The audio, published on the internet by Swaine late Monday, shows Nixon struggling to answer a question posed by Huffington Post's Matt Sledge: "Does the buck ultimately stop with you when it comes to how any protests are policed?"
"Um, we're, um, I, you know, it, uh, our goal here is to, you know, keep the peace, and allow all voices to, uh, to be heard," Nixon replies with a rambling, 14-second-long attempt at a response.
"I don't spend a tremendous amount of time personalizing this," Nixon says later, adding, "I'd prefer not to be a commentator on it."
Nearly two minutes after Sledge first asked Nixon to explain who will be in charge of maintaining the peace at any potential protests, he rephrased his question and attempted again to get an answer.
"Is there any one official or agency ultimately in charge here in terms of response?" Sledge wondered.
Again, Nixon is heard on tape meandering between words while failing to actually explain who will ultimately be tasked with responding to any civil unrest in Ferguson or elsewhere in the coming days — be it the National Guard, local police forces, county sheriffs or whomever — this time trailing off at moments for seconds at a time as he struggles to provide an explanation.
"Well, I mean, it uh, clearly [silence] I feel good about the… we worked hard to establish unified command, to outline our responsibilities now with the additional assets provided by my order today of the Missouri National Guard we have worked through, uh, a number of, uh, operational issues the folks have and, uh, I'll only say, uh, our efforts today are on top of a lot of last hundred days to make sure we're prepared for any contingency."
Nixon's reply without a doubt was ripe with uncertainty, which rightfully causes concern ahead of what may be mass protests of a caliber previously unseen in Missouri. Demonstrations waged for days in Ferguson for days, then weeks, after Brown was shot and killed by Wilson more than three months ago. Now as the city braces itself to hear whether or not Wilson will be charged with that shooting death, officials are expecting the worst, to say the least: not only has Nixon asked the National Guard for assistance during the coming days, but a warning to law enforcement agencies across the country from the FBI on Monday revealed that the bureau believes the grand jury's impending decision "will likely" lead to attacks against the police.
You can share this story on social media: