No sun in California? Lack of light hinders revolutionary solar plant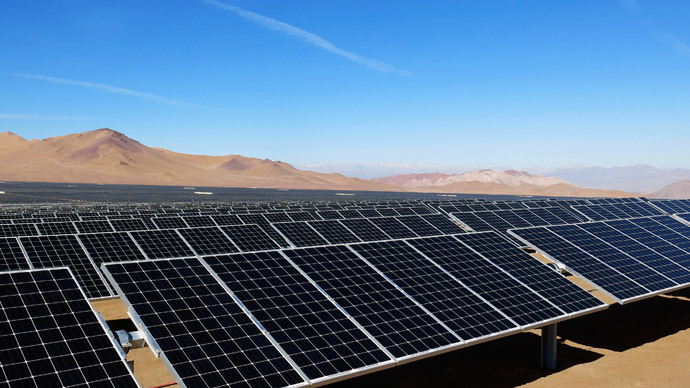 A pioneering solar energy plant in California, planned to produce enough energy to power 140,000 homes, isn't delivering – due to a lack of sunlight and other weather anomalies. Altogether, it's making the outlook cloudy for the $2.2 billion facility.
Originally heralded as a breakthrough in green energy, the Ivanpah Solar Electric Generating System, located near the California-Nevada border, is producing just around half of its expected energy output for 2014.
"Factors such as clouds, jet contrails and weather have had a greater impact on the plant than the owners anticipated," the agency said in a statement, AP reported.
It's hoped the plant will reduce carbon dioxide emissions by more than 400,000 tons per year and will run at full capacity for eight hours a day. However, the plant's operators, NRG Energy, who also co-own the facility along with Google and BrightSource Energy, hope they can overcome initial teething problems.
"During startup we have experienced ... equipment challenges, typical with any new technology, combined with irregular weather patterns," NRG spokesman Jeff Holland said in a statement. "We are confident that Ivanpah's long-term generation projections will meet expectations."
The plant works by using 347,000 garage door-sized mirrors to generate 392 MW of energy. The sunlight from the mirrors, which are computer operated, is then reflected on to boilers, placed on top of huge towers, which are taller than the Empire State building. The steam then drives turbines, which create electricity.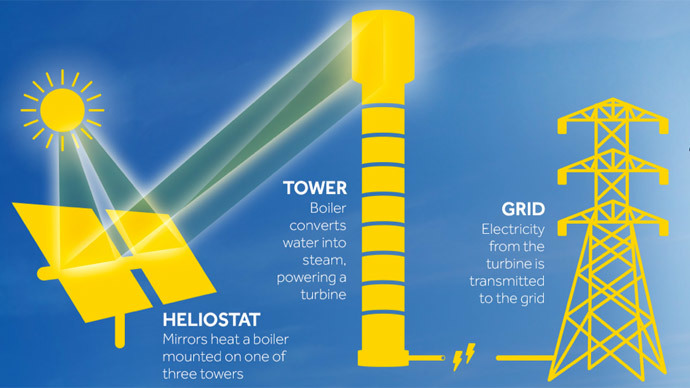 "With projects like this one [Ivanpah]... we're putting Americans to work producing clean, home-grown American energy that will help lower our reliance on foreign oil and protect our planet for future generations," President Barack Obama said in his weekly address on October 2, 2010, which NRG Energy proudly displayed on their website.
The project cost a total of $2.2 billion, $1.6 billion of which was raised from federal loans. However, not everyone is convinced that the project will be the success story that the Obama administration was hoping.
Kaitlin Meese, an analyst at research firm Bentek Energy, said its early production figures "do not paint a strong picture for solar-thermal technology development." Meanwhile, Dr Neil Fromer, an executive director of the Resnick Sustainability Institute at the California Institute of Technology said, "The operation of such plants is highly dependent on weather conditions, and predicting when and how strongly the sun will shine is not a perfect science. A little bit of inefficiency with mirrors can translate into a loss of power output ranging from small to significant," AP reported.
Industrial-scale #solar in beautiful Ivanpah Valley. #heartbreaking#rooftopsolar#degradedlands@Defenders#drecppic.twitter.com/RcAoBkIKYT

— krista schlyer (@kristaschlyer) November 11, 2014
The plant's aim of reducing its carbon footprint is also failing, with those running the facility forced to use more natural gas to ensure that the boilers are kept running to produce electricity.
"Because the plant requires sunlight to heat water and turn it to steam, anything that reduces the sunlight will affect steam conditions, which could damage equipment and potentially cause unsafe conditions," said the commission, according to AP, which approved the request by NRG Engery to allow them to use 60 percent more gas to keep the facility running.
The plant owners admit that not everything has gone to plan, and they are still getting to grips with the technology. But they to achieve maximum productivity in 2018, they say.
"For some aspects of operation, the only way to fully understand how the systems work has been through the experience of operating," NRG said.
You can share this story on social media: