NFL teams raided, team doctors questioned by DEA agents after Sunday games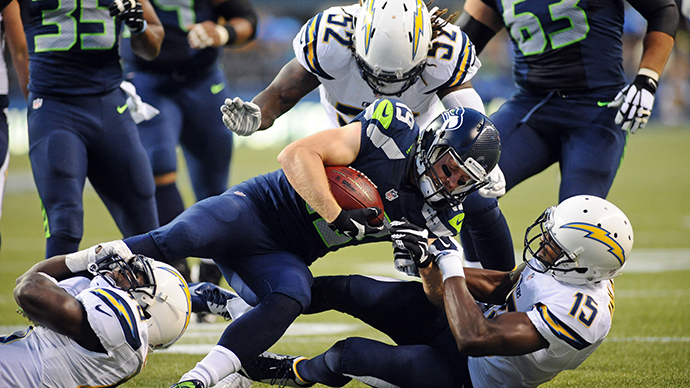 The Drug Enforcement Administration randomly inspected three NFL teams after their away games on Sunday. DEA agents were looking into allegations that team doctors were illegally dispensing prescription narcotics.
"DEA agents are currently interviewing NFL team doctors in several locations as part of an ongoing investigation into potential violations of the Controlled Substances Act," DEA spokesman Rusty Payne said Sunday. "The Drug Enforcement Administration has a responsibility under the Controlled Substances Act to ensure that registrants who possess, prescribe and dispense controlled substances are following the law."
The San Francisco 49ers were searched at New Jersey's MetLife Stadium after their game with the New York Giants, while the Tampa Bay Buccaneer's inspection took place at Maryland's Baltimore-Washington International Airport, in cooperation with Transportation Security Agency officials. The Seattle Seahawks were checked after their game in Kansas City, Missouri, but the team did not specify if they were at the stadium or airport.
The inspections included bag searches and the questioning of team doctors by DEA agents, and were based on the suspicion that NFL teams dispense drugs illegally to keep players on the field in violation of the Controlled Substances Act, a senior law enforcement official with knowledge of the investigation told the Washington Post.
"What we were told was they are random checks of team physicians as they travel to see if anyone is transporting controlled substances across state lines," 49ers spokesman Bob Lange said after Sunday's game against the Giants, according to ESPN. "The 49ers' medical staff complied, and the team departed the stadium as scheduled."
NFL spokesman Brian McCarthy later also issued a statement that said: "Our teams cooperated with the DEA today and we have no information to indicate that irregularities were found."
The raid is believed to have stemmed from a lawsuit filed by more than 1,300 retired NFL players earlier this year in US District Court in San Francisco. The suit claims that NFL medical staffs capriciously pump players full of powerful, highly addictive narcotics such as Percocet and Vicodin in order to get them back on the field as soon as possible, the Post reported.
"I think it's great that the DEA is taking this seriously," Phil Closius, an attorney representing the former NFL players involved in the ongoing federal lawsuit, told ESPN. "We alleged back on May 20 that the NFL was issuing these controlled substances and prescription medicines in an illegal manner, and nobody has really disputed the factual basis of that claim."
A federal law enforcement source with knowledge of Sunday's inspections told ESPN that the DEA has reason to believe those laws are frequently violated, particularly by visiting NFL teams.
"NFL doctors are not obtaining a separate registration where they are administering controlled substances to NFL players. They are administering in different states and treating players at hotels and stadiums outside of their registered location with the DEA," the source said.
The DEA also had reason to believe that visiting-team physicians may not be keeping "readily retrievable documents" that spell out which prescription drugs are administered and to whom, the source added. "Our intelligence suggests controlled substances are not properly logged to specific players."
Closius blamed the NFL culture that routinely demands players play with pain.
"If doctors don't get players back on the field, you think they're going to continue to be the team doctor?" Closius told ESPN. "Everybody is subservient to this return-to-play culture -- doctors, general managers, coaches, everybody. And that return-to-play culture is responsible for this illegal distribution on drugs."
Players' return-to-play attitude has been noted for nearly two decades. A 1997 Sports Lawyer Journal article noted that NFL athletes are often willing to assume greater risk than normal patients.
"The ordinary patient desires a long-term cure, not a quick fix," the article said. "Professional athletes feel pressure to play from teammates, other athletes, friends, media, fans, team managers, owners, physicians and themselves... Fans often believe that highly paid professional athletes have a duty to play for their team even if there is high risk to the athlete's health."
Along with the use of prescription drugs, the NFL and team doctors have come under fire ‒ and been sued ‒ over the way concussions have been handled in the league. The league faced a lawsuit filed by more than 4,500 former players who say the NFL hid links between football and a specific type of head injury, called chronic traumatic encephalopathy, or CTE. A study released in October found that 96.2 percent of deceased pro footballers examined as part of the study suffered from the degenerative brain disease that is caused by repeated blows to the head and can lead to aggression and dementia.
The lawsuit was settled in mid-October, providing payments of up to $5 million to those with the most serious neurological impairments. But lawyers for more than 20,000 former professional football players are expected in court on Wednesday in Philadelphia to argue over the terms of the settlement, Reuters reported. The former players are seeking compensation from the NFL, claiming "intentional tortious misconduct, including fraud, intentional misrepresentation and negligence" by the league.
In the lawsuit's master complaint, the plaintiffs argued, "The NFL, as the organizer, marketer and face of the most popular sport in the United States, in which MTBI [mild traumatic brain injuries] is a regular occurrence and in which players are at risk for MBTI, was aware of the evidence and the risks associated with repetitive traumatic brain injuries virtually at the inception, but deliberately ignored and actively concealed the information from the Plaintiffs and all others who participated in organized football at all levels."