Los Angeles police using CIA software to track criminals, ex-cons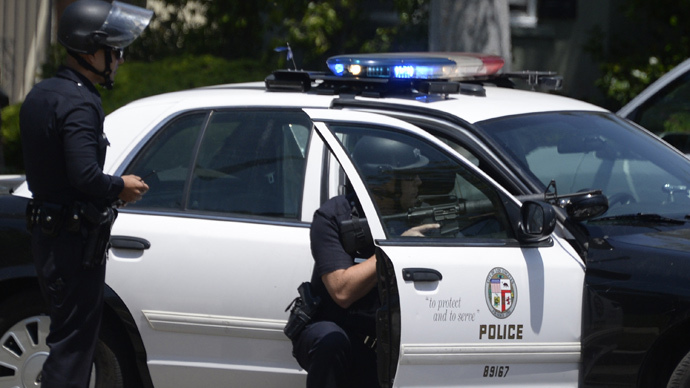 New software used by the Los Angeles Police Department shows not only where crime is most likely to happen, but also tracks ex-cons and others likely to commit crimes. Civil rights groups are concerned over its use for entrapment and data collection.
Dubbed 'LASER,' the software program was developed by the CIA's venture capital arm and connects the dots from 15 separate sources of data to draw links and connections for combating crime. Ultimately it is able to analyze street crime locations, as well as ex-cons and their alliances, the Associated Press reported.
Under the program, a crime intelligence unit creates a list of people's names, which patrolmen routinely gather when doing street stops and arrests. The lists are marked for information only and include a photo and the license plate numbers of vehicles that people use. This information becomes the starting point for analysis and investigation.
READ MORE:'Drone-Free LAPD!' LA residents protest police spy drones
Against the list of names, historical data about where crimes have occurred and a list of people more likely to commit crimes based on past behavior is included in the data analysis. Police can then see where crimes have frequently occurred, paying particular attention to gun-related robberies and people with violence and lengthy criminal histories, and send more law enforcement on patrols in those areas.
Laser prog used by cops scans license plates & track cell phones.LAPD claims using it only in hi crime areas #libertyhttp://t.co/ksC2YRnRoP

— Rod (@dudewtfnow) November 14, 2014
As US police departments are generally understaffed and lack the budget for advanced technology, the software program dubbed 'LASER' was acquired by the LAPD through a federal grant.
READ MORE:LAPD deploys drug detection swab test at sobriety checkpoints
Already, the technology is receiving high praise from the LAPD, which stated the effort has already helped reduce crime in one of the city's most notorious and historically gang-ridden neighborhoods.
"This is a tremendous step forward. Without this, I couldn't do my job," Capt. Ed Prokop, head of the LAPD division that watches over the grimly nicknamed "Shootin' Newton," said to Reuters.
@prisonculture re: #LAPD#CIA#LASER - As if Orwellian wasn't Orwellian enough....

— trench (@THE_REAL_TRENCH) November 14, 2014
There were 39 homicides a year before the program started in 2011 and only 14 last year, police said. At the end of the first year, 87 of the 124 people the program identified as chronic offenders were arrested at least once for "like crimes," officials said.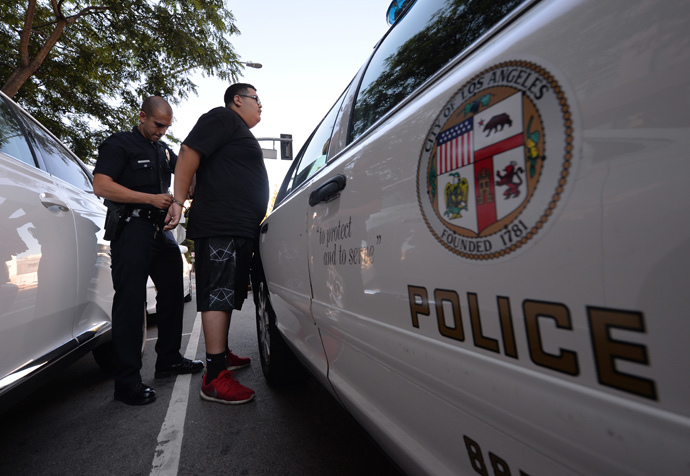 Civil rights advocates, however, are concerned about the software program and what it can do, since it never underwent civilian vetting. They also have concerns about privacy, entrapment, and domestic intelligence gathering.
"People who have paid their debts to society shouldn't remain stigmatized in the eyes of police," said Kade Crockford of the American Civil Liberties Union to Reuters, adding that the LAPD risks alienating minorities. "You're repackaging old biases in new technologies," she said.
ACLU lawyer Peter Bibring said the list amounts to intelligence files on people who may commit crimes — a violation of federal law. Once on the list, he said, "the chances of police scrutiny go up significantly, and your chances of being identified wrongly in a crime."
READ MORE:LAPD vs. Photographers
Bibring said it's also not clear that the program is following the department's own standards for collecting criminal intelligence. An LAPD division was shut down 30 years ago after the public learned it was compiling millions of intelligence files on 55,000 people.
Officials from New York, Nevada, Wisconsin, Washington, Texas, and Canada have been briefed on LASER, said Craig Uchida, president of Justice & Security Strategies, Inc., and the program's research partner.
News of LASER's use comes soon after the ACLU released a report on the increased use of surveillance tools by police departments in California. Some $45 million in federal funds have gone towards video surveillance, drones, license plate readers, and cell phone capture devices. All are being used on the public without its knowledge and without scrutiny from civilian organizations or local lawmakers, because purchases don't involve city budgets.
You can share this story on social media: