Drone surge: Predators patrol nearly half of US-Mexico border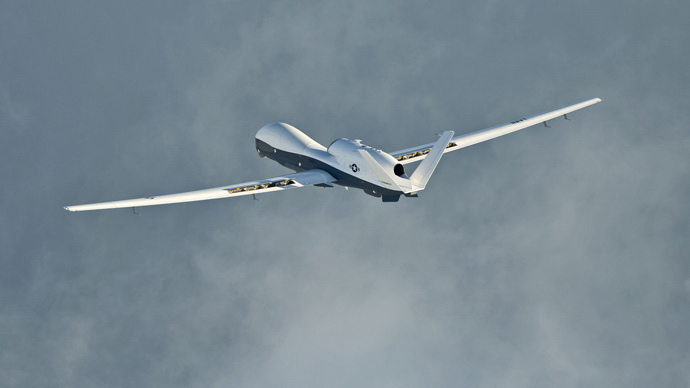 Predator drones are silently patrolling almost half of the United States' border with Mexico, looking for illegal immigrants, human traffickers and drug cartels in desolated areas the government agents can't realistically patrol.
The unmanned aircraft fly over about 900 miles of rural areas where there are no US Customs and Border Patrol (CPB) agents, camera towers, ground sensors or fences along the 1,954-mile border, according to a new report by the Associated Press. The Predator Bs use a high-resolution video camera and then return within three days for another video in the same spot, two officials told the wire service. The two videos are then overlaid for analysts who use sophisticated software to identify tiny changes.
There are changes in terrain in only eight percent of the drone missions under the current strategy ‒ known internally as "change detection" ‒ since it began in March 2013. Of those flagged missions, about four percent were false alarms, like tracks from livestock or farmers, and about two percent are inconclusive to the agents dispatched to the area to investigate. The remaining 2 percent offer evidence ‒ like footprints, broken twigs, trash ‒ of illegal crossings from Mexico, which typically results in ground sensors being planted for closer monitoring.
In the last year and a half, CPB has operated about 10,000 drone flights, with much of their missions over Texas. Border missions fly out of Sierra Vista, home of the U.S. Army Intelligence Center at Fort Huachuca, or Corpus Christi, Texas. They patrol at altitudes between 19,000 at 28,000 feet and between 25 and 60 miles of the border. The program is expected to expand the the Canadian border by the end of 2015.
The purpose is to assign agents where illegal activity is highest, R. Gil Kerlikowske, commissioner of Customs and Border Protection, the Border Patrol's parent agency, which operates nine unmanned aircraft across the country, told AP.
"You have finite resources," he said in an interview. "If you can look at some very rugged terrain (and) you can see there's not traffic, whether it's tire tracks or clothing being abandoned or anything else, you want to deploy your resources to where you have a greater risk, a greater threat."
Gregory McNeal, a law professor and drone expert at Pepperdine University, told NBC News in July that the money spent on drones is worth it.
"This is a better way to patrol the border than helicopters," he said. "It's not a comprehensive immigration solution or border security solution, but more surveillance time in the air will help plug gaps in the border."
A typical Predator drone can fly for 12 hours before landing, compared to three for a standard helicopter. But the cost is much higher: Predator drones require a crew of between five to eight people ‒ plus maintenance staff ‒ to operate, coming out to about $3,000 an hour to fly. And each one has an $18 million price tag, NBC News reported.
CPB began rolling out Predators in 2005, but rapidly expanded the unmanned aerial reconnaissance operation along the US-Mexico border at the beginning of this decade, the Washington Post reported in 2011.
Michael Kostelnik, a retired Air Force general and former test pilot who is the assistant commissioner of CPB's Office of Air and Marine, told the Post then that he had yet to be challenged in Congress about the appropriate use of domestic drones. "Instead, the question is: Why can't we have more of them in my district?" Kostelnik said.
In July, President Barack Obama requested $39.4 million for aerial surveillance, including troops, along the US-Mexican border. The emergency funding was for 16,526 additional drone and manned aircraft flight hours for border surveillance, and 16 additional drone crews to better detect and stop illegal activity, according to administration officials. The request was in response to the humanitarian crisis after tens of thousands of unaccompanied children and families illegally entered the country in the first half of the year.
"Border Patrol wants the money and it wants the drones," McNeal said. "This is the kind of crisis where, if you are Border Patrol, you seize the opportunity to get more funding from Congress."
The agency's "unmanned and manned aircraft can continue to support ongoing border security operations, specifically regarding the tracking of illegal cross-border smuggling operations," a CBP official told Nextgov.
The president's request was part of a larger funding appeal of $3.7 billion to deal with the illegal immigrants and border security problems.
In January, CPB was forced to ground its entire fleet of drones after a mechanical function forced a crew to crash an unmanned aircraft valued at $12 million. The mishap lowered the number of agency drones to only nine.
You can share this story on social media: