​'Sealed for eternity' to 40 wives: Mormon Church confirms founder's polygamy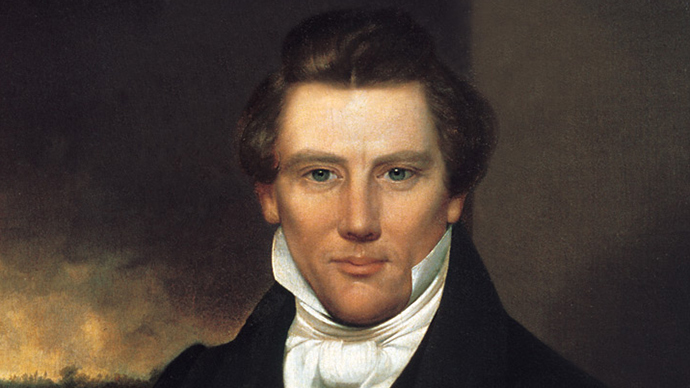 For the first time in its history, the Mormon Church, which prohibited polygamy 150 years ago, has admitted that its founder, Joseph Smith, had up to 40 wives, the youngest of whom was only 14.
The Church of Jesus Christ of Latter-Day Saints (LDS) has acknowledged that its founder and most important prophet practiced polygamy. The revelation came in an essay published quietly on its website in late October, and reported by the New York Times earlier this week.
Smith, who founded the Church in 1830, married between 30 and 40 women, many of whom were already married to friends and other church members, according to the essay. The prophet said that he was visited by an angel who ordered him three times to adopt polygamy.
"During the third and final appearance, the angel came with a drawn sword, threatening Joseph with destruction unless he went forward and obeyed the commandment fully," the essay says.
For 200 years the Church maintained that while early members practiced "plural marriage," Smith did not engage in the practice.
According to the essay, Smith engaged in sexual relations with between 12 and 14 of his wives to whom he was "sealed for time and eternity." The others were merely "sealed" to him for the next life. His youngest wife, the daughter of Smith's close friends, was one such "eternity-only" bride.
"Sealings for time and eternity included commitments and relationships during this life, generally including the possibility of sexual relations. Eternity-only sealings indicated relationships in the next life alone," the essay explains.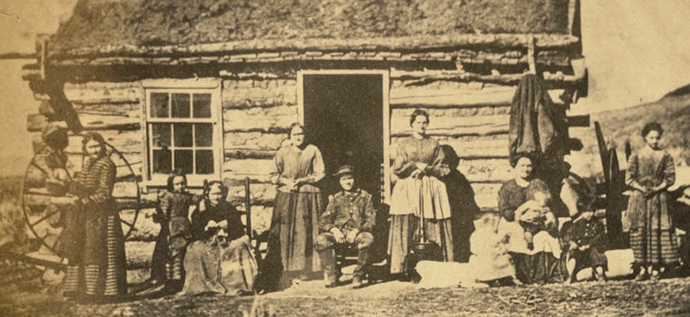 The Church explains that "some Saints also saw plural marriage as a redemptive process of sacrifice and spiritual refinement," in addition to viewing the practice as way to boost the Mormon birth rate.
Although Joseph Smith was a reluctant polygamist, he was fearful of ignoring what he perceived as God's will.
Plural marriage took a toll on Emma Smith, Joseph's first wife, for whom it was "an excruciating ordeal."
"After Emma opposed plural marriage, Joseph was placed in an agonizing dilemma, forced to choose between the will of God and the will of his beloved Emma," the essay notes.
For some Mormons, the revelation came as a shock. A blogger at Feminist Mormon Housewives, a popular progressive Mormon blog, recounts her friends' reactions to the essay.
"One friend has not heard these rumors before. 'I don't understand how to make this work,' she says. 'Spiritually, emotionally… how do I make this work?' We have nothing of substance to say. 'Honestly, I just ignore it,' says an older friend," writes the blogger, who goes by christer1979.
Meanwhile, others rushed to defend Smith. "When the commandment was given by God, Joseph Smith had to obey. He loved and served God and Jesus Christ before any man," wrote Facebook user Kortney Chamberlain in a comment on the NY times Facebook page.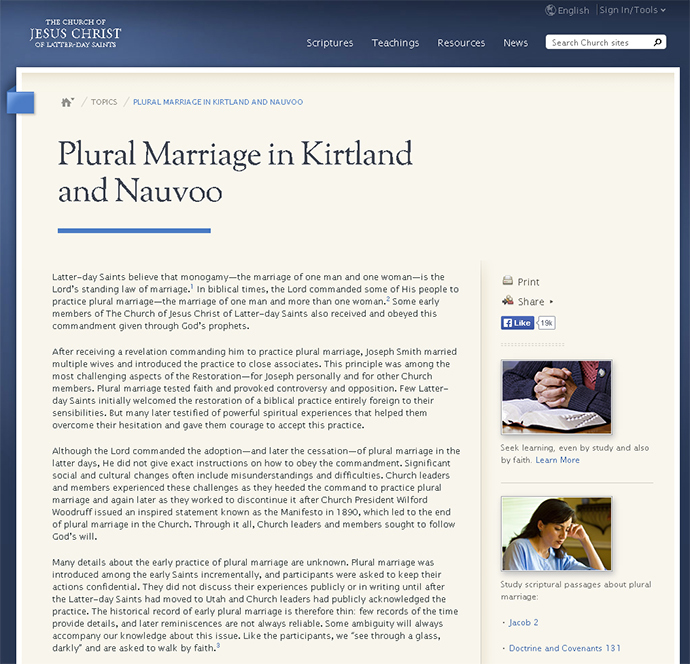 The Church is attempting to address its contentious history in a series of essays published on its website, touching on such hot button issues as its lamentable race policy. The church, which also discouraged interracial marriages, had a blanket ban on black priests until 1978. An essay on the topic explains that the church wanted to end the ban earlier, but needed a sign from God before proceeding.
Many of the essays, an attempt at transparency and openness within the Church, were written by outside experts and published with approval from the church's leadership.
Elder Steven E. Snow, a Mormon leader, highlighted the importance of the essays. "We need to be truthful, and we need to understand our history. I believe our history is full of stories of faith and devotion and sacrifice, but these people weren't perfect," he was quoted as saying in the NYT.
After LDS banned polygamy in 1850, a splinter group calling itself the Fundamentalist Church of Jesus Christ of Latter-Day Saints (FLDS) broke away, accusing the church of compromising its principles and kowtowing to mainstream society. FLDS members continue to practice polygamy in small enclaves around the US and Canada.
You can share this story on social media: