DARPA's Atlas robot learns karate (VIDEO)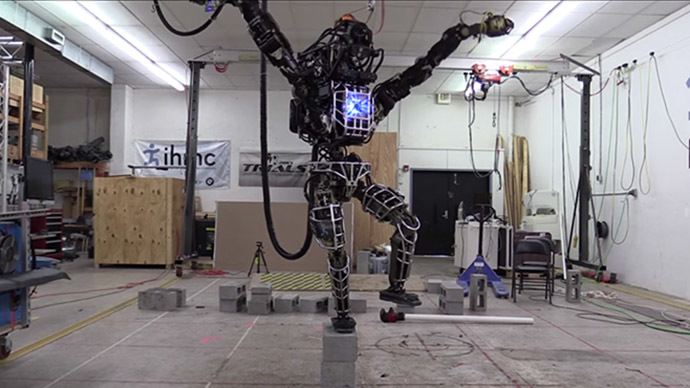 Engineers at Google-owned Boston Dynamics have released a new video of its human-like robot, Atlas, and the machine's demonstrated ability to maintain a karate stance may someday earn it a black belt in martial arts.
Boston Dynamics isn't exactly building a ninja robot by any means, but a video released this week of Atlas mimicking the maneuvers made famous by Ralph Macchio in 1984's blockbuster Karate Kid is quickly raising questions about what sort of capabilities the world can expect from the next generation of automated androids.
The latest video of Atlas, released over the weekend by the robotics team at the Florida Institute for Human and Machine Cognition, is the latest example out of the lab to exhibit its 6'2", 330 lbs mass of metal in action.
Unlike earlier examples, however, the latest YouTube clip of the robot, nicknamed "Ian," shows the colossal creation balancing in a way that would be difficult for most anyone to execute, absent the utmost athletic ability.
As RT has reported previously, Boston Dynamics and DARPA, the Pentagon's personal science lab of sorts, have helped supply Atlas models to institutions across the United States, including Florida's IHMC, in hopes of seeing what the nation's brightest robotics engineers are capable of when they port their own personalized software in the skin of the cyborg-like automaton.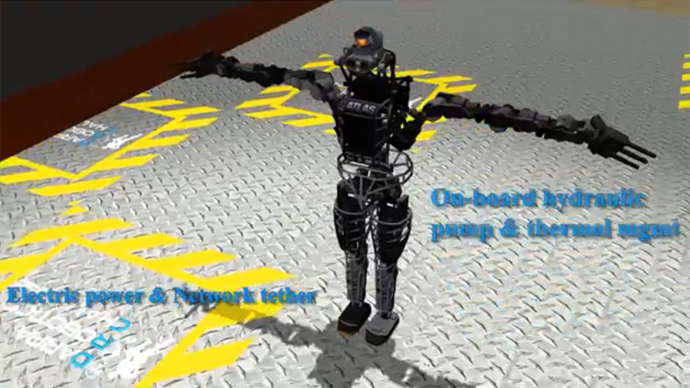 And while select teams from coast to coast intend on perfecting Atlas in order to make it ideal for assisting with emergency situations and disaster reliefs in the future, IHMC engineers told the IEEE Spectrum that there isn't all that much behind the unorthodox stance they've programmed Ian to adopt. According to the Spectrum's Evan Ackermann, the IHMC team said they strived to have their robot emulate the iconic Karate Kid pose simply "For the fun and challenge of it."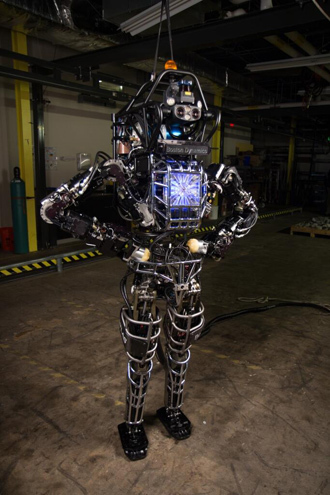 "Nobody is quite sure yet what robots are going to have to do in the [DARPA Robotics Challenge] Finals next year. But if part of the disaster scenario involves robots getting their legs swept by evil ninja robots (totally possible), IHMC'sAtlaswill be ready for that and more," Ackermann wrote.
Additionally, he said the latest video is a vast improvement from what engineers unveiled last year when they publically operated the robot.
"We're not actually expecting that Atlas will be jumping, but the balance that it's demonstrating in this 'Karate Kid' video has us feeling a lot more optimistic about the DRC Finals, since in the DRC Trials, Atlas could literally be toppled by a gentle breeze," Ackermann added.
On the IHMC website, the Atlas team says that their "focus on humanoid robots is rooted in a simple concept: Because the robots will be working in environments built for humans, a human-like robot is best-suited to the challenges involved."
That isn't to say Atlas is all that human, though. In addition to being made out stereo cameras sensors and a laser range finder, each model is made mobile by way of 28 hydraulically-actuated joints.
You can share this story on social media: