ATLAS: The Pentagon's latest terminator robot (VIDEO)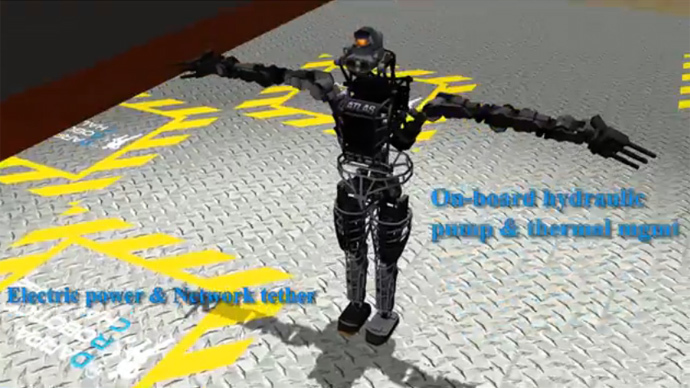 What has two arms, two legs and 28 hydraulically actuated joints? Its name is ATLAS, and it could be in charge of saving your life someday.
The Pentagon's Defense Advanced Research Projects Agency is always unveiling new gizmos and gadgets, but the latest effort from DARPA is something that seems more out of a sci-fi movie than a science lab. The Defense Department's experimental unit is looking to see what kind of robot it can develop to someday provide humanitarian aid and disaster relief, and its outsourcing that mission to scientists from the likes of MIT and other prestigious institutions participating in its latest Virtual Robotics Challenge (VRC).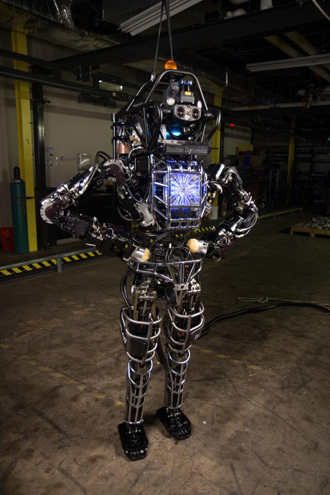 When the VRC got underway last week, DARPA provided the six competing teams with access to ATLAS, a 6-foot-2-inch, 330-pound (1.8 m, 250 kg) robot that ideally will be able to enter disaster areas someday and provide relief efforts in instances where direct human involvement is impractical or impossible.
"During the first 24 hours [of Fukushima], there were several opportunities for intervention to help make the disaster less severe," DARPA's Dr. Gill Pratt told Ars Technica, "but unfortunately, people could not go in to that zone because the radiation was too high, and as a result, the disaster was worse than it could have been."
In order to see what solutions could exist in the event of another nuclear disaster, this year's VRC will ask scientists to work through December 2013 at programing the ATLAS skeleton to interact in the most efficient way possible. The builders behind the robot's body, Boston Dynamics, say ATLAS "is a high mobility, humanoid robot designed to negotiate outdoor, rough terrain" with the ability for bipedal locomotion and the other perks that come with a few pairs of limbs.
"In extremely challenging terrain, ATLAS is strong and coordinated enough to climb using hands and feet, to pick its way through congested spaces," Boston Dynamics said.
Boston Dynamics and DARPA have provided several copies of the ATLAS robot to this year's VRC competitors in hopes of seeing who can put the best set of brains inside the hunk of metal. Competitors this year include the Institute for Human and Machine Cognition, Worcester Polytechnic Institute, TRACLabs Inc, Caltech's Jet Propulsion Laboratory, Virginia Tech and the Massachusetts Institute of Technology.
"The Virtual Robotics Challenge was a proving ground for teams' ability to create software to control a robot in a hypothetical scenario," Dr. Pratt said in a statement issued by DARPA. "Now these seven teams will see if their simulation-honed algorithms can run a real machine in real environments. And we expect all teams will be further refining their algorithms, using both simulation and experimentation."
In a video released by DARPA, so far ATLAS can walk briskly, avoid obstacles, climb stairs and even withstand the force of a mid-sized wrecking ball set to swing at its torso. After all, the six teams will have to prove that their personally-programmed ATLAS can withstand any event that a future army of robots might have to endure if unleashed in the wild: for humanitarian purposes, of course.
You can share this story on social media: