Congressman Issa celebrates Veterans Day by retweeting photos of Nazis, war criminals, mass murderers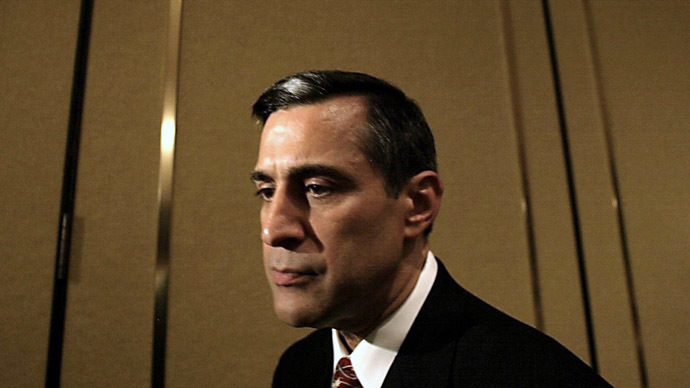 US congressman Darrell Issa retweeted photos of military veterans - including Nazis, war criminals, and mass murderers - during a Twitter campaign ahead of Nov. 10, Veterans Day.
Issa, chairman of the powerful House Oversight and Government Reform Committee, began his #AmericaVets campaign on Friday by tweeting out a photo of himself training at Fort Benning in 1975.
Jump school at Ft Benning, 1975. Tweet your vet photos with #AmericasVets to celebrate Veterans Day! #FlashbackFridaypic.twitter.com/OLVxlsbw4D

— Darrell Issa (@DarrellIssa) November 7, 2014
Others tweeted photos of their family members who have served in the military going back as far as World War I. Those photos and messages were then retweeted from Issa's Twitter account.
Yet some jokesters also baited Issa into retweeting photos of veterans with less auspicious histories, like Heinrich Himmler - leading Nazi, top commander of the Schutzstaffel (SS), and architect of the 'Final Solution to the Jewish Question'.
Thank you to congressman Darrell Issa for honoring my grandfather Heinrich Himmler pic.twitter.com/IFpymfx23Y

— Butt C. Planet (@a_planet_irl) November 7, 2014
And speaking of the SS, Issa retweeted a photo of US troops posing with an SS flag in Afghanistan.
The Chairman of the House Oversight Committee just RT'd a photo of US troops posing with an SS flag lmao pic.twitter.com/txMdClbQyf

— Regular Sam Knight (@samknight1) November 7, 2014
Also retweeted by Issa were homages to former US veterans Lee Harvey Oswald, assassin of former President John F. Kennedy; Timothy McVeigh, responsible for the Oklahoma City bombing that killed 168 people in 1995; and William Calley, the US Army officer convicted for having a lead role in the My Lai Massacre during the Vietnam War.
#AmericasVets my uncle Lee in 1956 @DarrellIssapic.twitter.com/0FZNfGOcCs

— Go-Gurt Darfur (@BrooklynJuggler) November 7, 2014
@DarrellIssa i hope you will RT to honor my late friend #AmericasVetspic.twitter.com/JoAkdVQOay

— Chivette Fan #1™ (@jonny_is_good) November 7, 2014
While the other controversial-veteran retweets were deleted from Issa's Twitter account, the retweet of Calley's photo was not removed as of 11 a.m. ET.
#americasvets love u dad @DarrellIssapic.twitter.com/Eks0ezBr80

— Uncle Dad (@unqualifiedman) November 7, 2014
Issa's House Oversight Committee has launched several investigations into the Obama administration, including the 2012 attack on an American consulate in Benghazi, Libya and the US Bureau of Alcohol, Tobacco, Firearms, and Explosives' 'Fast and Furious' gun-running program.