21yo veteran shot dead on LA street just after returning from Afghanistan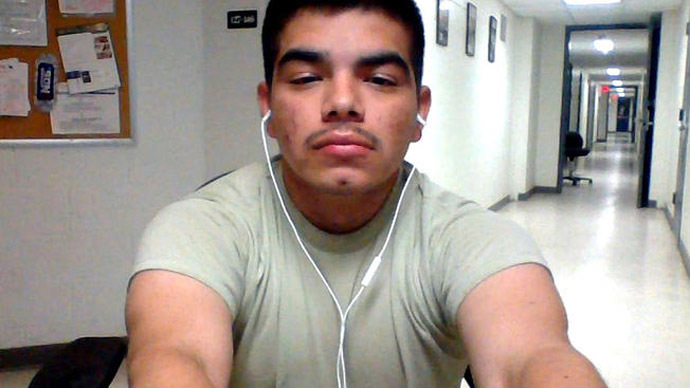 Surviving a tour of duty to Afghanistan, a US Army veteran was shot to death on a Los Angeles sidewalk after what appeared to be a party brawl, police said.
Francisco Garcia was coming back from a party at his girlfriend's home at about 2 am local time, and was on the sidewalk when two cars approached and stopped near Sylmar High School.
A man got out of a black SUV, smashed a beer bottle on the ground and started shouting at Garcia. Then, as witnesses told police, he went to the second vehicle, a white Toyota or Honda, to take a gun.
Garcia was declared dead at the scene, and security forces currently believe that he was shot following an argument that broke out during the party.
"It appears Francisco was the target of the attack. Apparently, a simmering dispute had boiled over during the night, and this suspect came looking for Francisco. Figuring out the dispute should lead us to the shooter," Los Angeles police lieutenant Paul Vernon told journalists.
READ MORE: Number of UK Afghan war veterans seeking mental help doubles in a year
A friend of the veteran, Brian Enriquez, told the Los Angeles Times that they were heading from Garcia girlfriend's house to another party when the cars pulled up. He also said that he hadn't seen the shooter previously and had no idea why he would target Garcia.
The shooter asked, "Are you ready for this?" before firing, Enriquez said.
"[Garcia] was a very loving, caring person. He would always have a smile on his face. An all-around amazing individual," Enriquez said about his dead friend.
Cousin of 22y/o veteran Francisco Garcia sits at memorial. Garcia was gunned down at his homecoming party. @myfoxlapic.twitter.com/gmpkXJgSIh

— Christine O'Donnell (@ChristineOnNews) November 10, 2014
Different sources either said that police don't believe the witnesses, and are sure that a row at the party triggered the attack, or report that police are certain that the shooter or his companions had attended the party earlier.
Some reports suggested that the party was to celebrate Garcia's return from Afghanistan over the summer, but the information wasn't confirmed.
At 6 pm Sunday, a vigil was held to commemorate Garcia.
Hundreds showing up to a growing memorial near Sylmar HS for Francisco Garcia, the army vet, shot and killed this AM pic.twitter.com/AMOe8QKsI2

— Kate Larsen (@KateNBCLA) November 10, 2014
Last Tuesday, Garcia said on his Facebook page that his application to join the California Highway Patrol Academy had been accepted.
"The ironies are obvious. To survive as a soldier in an overseas conflict, only to be killed in your neighborhood upon your return," Lieut. Vernon told reporters.