'Emergency' protests sweep US to save internet from 'hybrid' net neutrality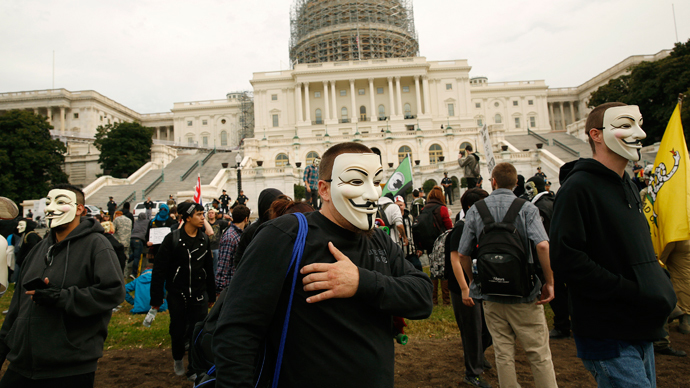 Net neutrality advocates took to the streets in over a dozen cities across the America, part of an emergency protest against a leaked "hybrid" proposal by the Federal Communications Commission to allow internet companies to charge more for faster service.
Organized by advocacy groups like Fight for the Future, Popular Resistance and Free Press, the protests were held outside of the White House in Washington, DC, as well as in cities such as New York, Boston, Chicago, and Las Vegas.
Under the FCC's new "hybrid" proposal, currently being considered by Chairman Tom Wheeler, the plan would "separate broadband into two distinct services: a retail one, in which consumers would pay broadband providers for Internet access; and a back-end one, in which broadband providers serve as the conduit for websites to distribute content,"wrote Gautham Nagesh of the Wall Street Journal.
READ MORE:Net neutrality protests planned across US ahead of FCC decision
In DC, protesters stood outside the White House and held up signs that read, "Save the Internet." People also coordinated chants like, "Hey hey, ho ho, Tom Wheeler has got to go."
In Philadelphia, around 50 people showed up in the rain declaring their opposition to Comcast, which is one of the main companies pushing for the ability to prioritize internet traffic and
huge turnout in the rain to fight @comcast-caused #internetemergency - 50 folks at least @CAP_Comcastpic.twitter.com/aRLxfcNnRH

— Media Mobilizing (@mediamobilizing) November 7, 2014
Small, but rowdy group here in New York. #InternetEmergencypic.twitter.com/OgrdLu4Nwh

— Dell Cameron (@dellcam) November 6, 2014
The demonstrations, dubbed "emergency protests" by Fight for the Future, stretched as far as Portland, where people demanded Title II reclassification – a move that would allow the government to classify telecom companies as common carries and prohibit them from making "any unjust or unreasonable discrimination in charges, practices, classifications, regulations, facilities, or services."
At #portland city hall for the #netneutrality protest! We want Title 2!#InternetEmergency@fightfortheftr@EFF@FCCpic.twitter.com/wBbSf007jX

— Better Vibes Decor (@BetterVibesDeco) November 7, 2014
Save the Internet! Net neutrality protest happening now at the White House http://t.co/TVzzNE3rkh (pic via @apblake) pic.twitter.com/OG4MPwBQLi

— RT America (@RT_America) November 6, 2014
"What President Obama's FCC chair is reportedly pushing is not a compromise, it's a sham," Evan Greer, campaign director for Fight for the Future, told the Guardian on Wednesday. "Nearly four million internet users submitted comments to the FCC against having fast and slow lanes on the internet, but this proposal explicitly opens the door for them. Worse, it's based in overly complicated and untested legal theories that are likely to fail in court."
#InternetEmergency#SanFrancisco Vigil tonight starts 6pm at Civic Center - Bring your light to help the cause!! pic.twitter.com/W28QUzxO9e

— Stay Well Map (@StayWellMap) November 7, 2014
Most of the whole crew at the #InternetEmergency protest in Boston. pic.twitter.com/wTK8NRsBam

— Mass. Pirate Party (@masspirates) November 6, 2014
You can share this story on social media: