Missing in action: US lost military supplies worth $420 million in Afghanistan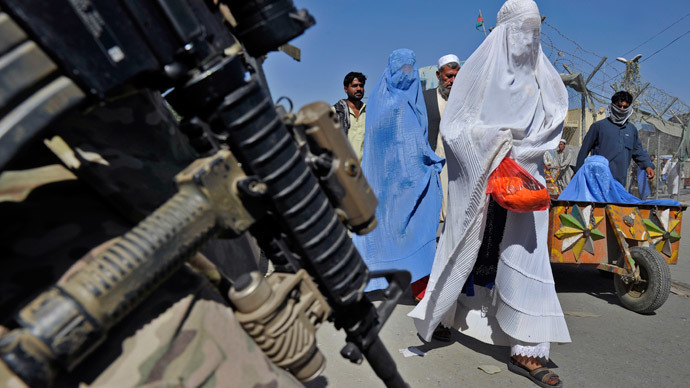 An internal Pentagon audit revealed that the US army in Afghanistan has failed to account for a vast amount of military equipment, including vehicles, advanced weapons systems and even encryption technology.
The investigation discovered that last year 156,000 pieces of military equipment worth almost half-a-billion dollars has been lost, but did not conclude whether the missing supplies could have fallen into enemy hands.
READ MORE: Afghan police sell arms to Taliban 'to feed families' as wages go unpaid for months – report
The report criticized Army officials at the main American bases - Bagram Airfield, the largest US base in the country, and at Kandahar - for poor accounting and oversight, concluding that "no one was held financially responsible for the property losses or accountable for missed reporting deadlines."

Major General Darrell Williams, head of the Army's 1st Sustainment Command, said in an attached letter to the report that his unit "continues to actively work with strategic commands to improve property management" and understood the need to recruit "responsible officers to manage the massive property requirements in theater," he wrote.

However, considering that the US Army fielded an estimated $27 billion worth of military equipment in Afghanistan over a 13-year period, the lost supplies represents around 1.5 percent of the total. Due to the military's failure to report the inventory losses on time, there is a higher likelihood that the missing government property "will not be recovered," the report said.
The report mentioned several reasons as to why the Army failed to report the missing inventory "in a timely manner," including that "The Army Sustainment Command does not have accurate accountability and visibility of property in Afghanistan; there is an increased risk that missing property will not be recovered; and no one was held financially responsible for the property losses or accountable for missed reporting deadlines."

Hundreds of millions of dollars of missing military inventory, however, may seem like a drop in the bucket for the US Army, which has already spent $7 billion on the Afghan withdrawal. The Pentagon said an additional $7 billion may be required before the wind down is complete by year's end.

The report also revealed that between 2006 and 2010, the Pentagon lost a total of 133,557 pieces of equipment valued at $238.4 million, Bloomberg reported.

Despite the withdrawal, the United States still maintains dozens of military bases and outposts scattered around the Central Asian country (a drop from 850 in 2012). About 10,000 US soldiers are expected to remain in the country after the December deadline.

Karen Kwiatkowski, a retired US Air Force Lieutenant Colonel who is now a critic of US foreign policy, said that aside from the possibility that some of the missing equipment will be found, or was broken and discarded, some of it probably was sold.
I'm sure that when they finish this investigation…they will find that certain people have sold equipment," Kwiatkowski told RT. "I'm sure that they'll find some criminal activity has happened."
The former US officer also mentioned the possibility that the missing inventory was stolen by US allies.

"Possibly, some of it has been stolen from us," she said. "Not so much sold by Americans, but stolen from us by our allies, by the Afghan Army and by the people we're working with."

Whatever did happen to the missing equipment, Kwiatkowski seemed certain of one thing: "In reality, there's probably a lot more missing than what's been reported by this inspector general's report."
You can share this story on social media: