Claims of dysfunctional voting machines muddy elections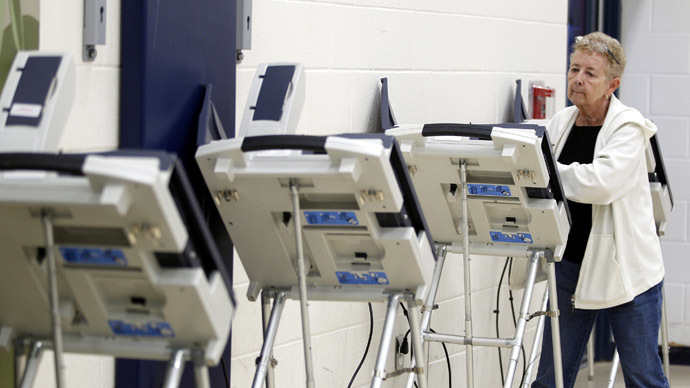 An incumbent lawmaker up for re-election in Virginia said Tuesday that his constituents are complaining that polling machines at nearly two dozen locations across the state have been acting irregularly on Election Day.
At a Tuesday morning press conference, Rep. Scott Rigell (R-Virginia) expressed concern after reportedly hearing from 25 people already that day that voters experienced issues when trying to cast ballots for the incumbent in the state's Second Congressional District — a region that includes the cities of Virginia Beach, Accomack and others.
"We have received numerous, credible reports of poll machine irregularity at voting precincts in Virginia's Second Congressional District. This is very troubling. It is critical that every voter verifies the final summary page before pushing the 'cast ballot' option," the congressman's office said in a statement.
"We know it's going to grow through the day," the Huffington Post quoted Rep. Rigell as saying during an impromptu Election Day press conference Tuesday morning. "That is not an anomaly, that's a pattern, in each and every case it's going against us and in favor of our challenger."
According to Rigell, constituents complained that they were having difficulties voting for the incumbent, and that polling machines across the Second District were accidentally casting ballots for the challenger, Democrat Suzanne Patrick. Rigell's office has since released video evidence allegedly showing the anomaly as it occurred when a Virginian attempted to cast a vote early Tuesday at a polling place in Virginia Beach.
Additionally, the Republican Party of Virginia wrote a letter to the state's Department of Elections early Tuesday as reports of faulty machines piled up. "Voters have difficulty selecting the candidate of their choice using the touch screen because the screen's touch sensor is not properly aligned with the text that appears on the screen," the letter reads.
According to the Virginian-Pilot, however, complaints could very well be overblown. Donna Patterson, the voter registrar for Virginia Beach, downplayed the reported irregularities to the newspaper and said, "To be honest with you, we've had more calls from Rigell's office than from voters."
Meanwhile, the Suzanne Patrick campaign released a statement of its own to the media saying reports of improperly working machines have been rarely seen on their end.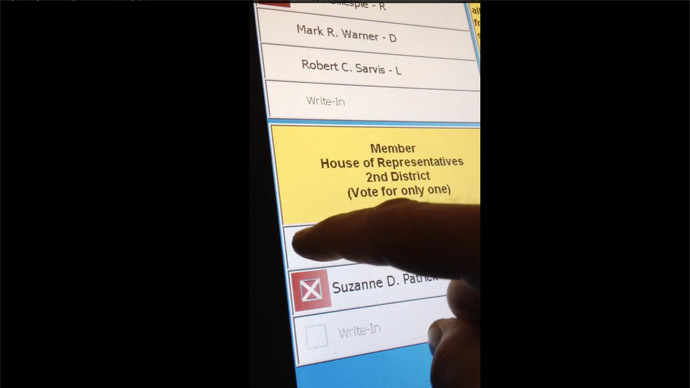 "Virginia has elections every year and we trust that the Department of Elections is doing everything it can to ensure accuracy during the voting process," said campaign manager Michelle Gajewski. "We will, of course, work with election officials to ensure this accuracy. Our campaign has gotten a very low and limited number of reports about difficulties casting ballots today. In all cases, the problem was resolved quickly and the voter walked away satisfied that each had cast his or her ballot successfully."
Previously, however, concerns have been raised elsewhere in the United States over reports that electronic voting machines similar to the ones being used in Virginia are capable of being compromised.
"It's a classic attack on security devices," Roger Johnston of the Vulnerability Assessment Team at Argonne National Laboratory told Popular Science for a report in 2012 about an exploit that effected certain machines."You implant a microprocessor or some other electronic device into the voting machine, and that lets you control the voting and turn cheating on and off. We're basically interfering with transmitting the voter's intent."
You can share this story on social media: