Virgin Galactic crash: Branson says won't push space tourism 'blindly'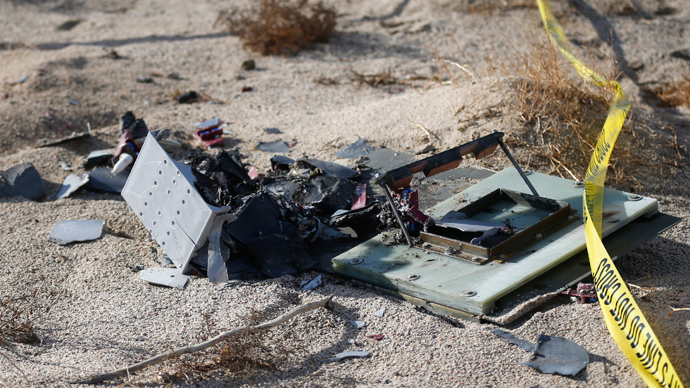 Billionaire Richard Branson admits his dream of making commercial space travel viable may be unachievable. This comes in the wake of his Virgin Galactic SpaceShipTwo crashing on October 31, which killed one pilot and left another in a critical condition.
The British entrepreneur says he is still committed to trying to make commercial space travel a reality for the public, but he does admit the project will require some time to achieve.
"We owe it to our test pilots to find out what went wrong," Branson said at a news conference in Mojave, California. "And once we find out what went wrong, if we can overcome it, we will make absolutely certain that the dream lives on."
"We are not going to push on blindly," he added.
Co-pilot Michael Alsbury died in the crash of SpaceShipTwo after it separated from its mothership, WhiteKnightTwo, while test pilot, Peter Siebold, is still in hospital recovering from injuries he sustained when the aircraft started to malfunction at a height of almost 14,000 meters.
"This is the biggest test program ever carried out in commercial aviation history precisely to ensure that this never happens to the public," Branson added. "Nobody underestimates the risks involved in space travel. In testing the boundaries of human capabilities and technologies we are standing on the shoulders of giants. Yesterday we fell short."
The bravery of test pilots cannot be overstated. Nobody underestimates the risks involved in space travel http://t.co/Kv0ePEk9gs

— Richard Branson (@richardbranson) November 1, 2014
However, there are doubts within the space industry over whether commercial space aviation will be viable in the near future. Around 800 tickets have already been booked for the planned spaceflights, which cost $250,000. They have been snapped up by the likes of Lady Gaga and Tom Hanks.
"It's a real setback to the idea that lots of people are going to be taking joyrides into the fringes of outer space any time soon," said John Logsdon, retired space policy director at George Washington University, as reported by AP. "There were a lot of people who believed that the technology to carry people is safely at hand."
SpaceShipTwo had previously flown 50 test flights, though only four of them had been powered by the aircraft's rockets. The test on Friday also saw the craft use a new rocket fuel. Virgin Galactic announced in May it was replacing the rubber-based propellant used during the spaceship's three previous rocket-powered test flights with a solid plastic-type propellant to get better results.
A National Transportation Safety Board team arrived at the crash site on Saturday to begin piecing together what led to the crash.
"We are here to investigate this accident, while we are here investigating there is nothing that stops this operation from continuing flying," the board's acting chairman Christopher Hart said.
Space is hard - but worth it. We will persevere and move forward together http://t.co/kJGG0NQTNf

— Richard Branson (@richardbranson) November 1, 2014
There were numerous cameras filming the flight, which will help the investigation to ascertain why the ship eventually crashed.
American University space policy professor Howard McCurdy says that it is imperative that no shortcuts are taken, if commercial space travel is to become a reality.
"I'm not sure that works for rocket ships," McCurdy said, pointing towards the Microsoft attitude of releasing a product and then fixing it on the fly. "That may work for cellphones, smartphones and computer programs. With space, you're working much closer to the edge," he added, as reported by AP.
You can share this story on social media: