Court orders movement restrictions on Maine nurse over Ebola fears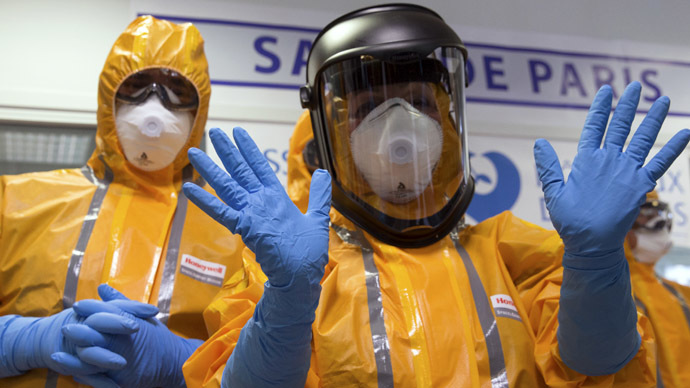 ​A District Court judge in Maine has authorized an order restricting the movements of a nurse who recently returned to the area from West Africa over fears that she might spread the deadly Ebola virus.
In response to a request filed earlier this week by state officials, District Court Chief Judge Charles LaVerdiere wrote that the nurse, Kaci Hickox, must stay at least three feet away from all other persons effective Friday, as well as adhere to a half-dozen other restrictions pending further instruction expected to come in the next 10 days.
"This decision has critical implications for [Hickox's] freedom, as guaranteed by the US and Maine Constitutions, as well as the public's right to be protected from the potential severe harm posed by transmission of this devastating disease," the temporary order reads in part.
Ebola nurse Kaci Hickox ordered to stay 3 ft away from people, not ride public transportation http://t.co/aBBucc4OISpic.twitter.com/gkBq5yfkj4

— NBC Nightly News (@NBCNightlyNews) October 31, 2014
Hickox, 33, arrived in New Jersey last Friday from Sierra Leone after volunteering there with Doctors Without Borders amidst a historically tragic Ebola outbreak. Officials in the Garden State immediately quarantined the nurse over concerns that she could spread the highly contagious disease, but subsequent tests suggested she never contracted the disease; because it may take upwards of 21 days to show symptoms, officials in Maine have insisted Hickox isolate herself from others since she returned home to the town of Fort Kent on Tuesday.
The court order — signed Thursday but not published until Friday morning — says Hickox must submit to direct active monitoring; coordinate her travel with public health authorities; not use public transportation; avoid public places, such as malls and movie theatres; avoid workplaces; stay within Fort Kent's boundaries unless told otherwise; and "maintain a 3-foot distance from others when engaging in non-congregate public activities (i.e., walking or jogging in the park)."
According to the document, a full hearing will be held sometime between this Sunday and next in order to assess Hickox's situation further.
Earlier this week, the nurse said she would reject the state's attempt to have her adhere to voluntary restrictions, and Thursday morning she went for a bike ride in Fort Kent, defying officials' orders.
That same day, the National Nurses United and an affiliated union, California Nurses Association, announced they'd be protesting next month to demonstrate against the treatment of health care workers returning from Africa.