Black Utah 'samurai' dressed as anime hero shot 6 times, killed by police – autopsy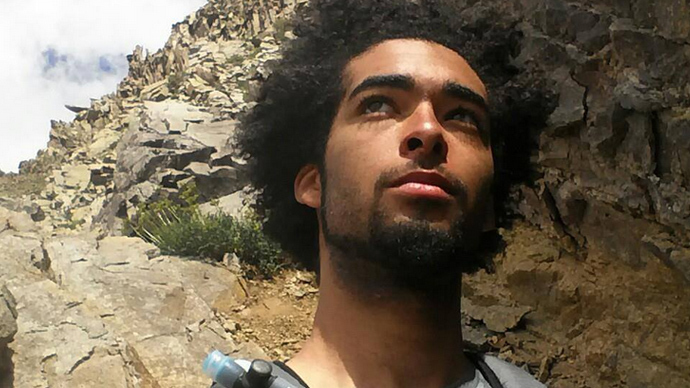 A young black man in Utah was shot six times and killed by police responding to a 911 call. The man was wearing a Japanese anime costume and carried a gift-shop samurai sword.
The state's autopsy report confirmed that Utah police shot 22-year-old Darrien Hunt six times, including four times in his back.
The report is part of an ongoing investigation into Hunt's shooting death. The young man was wearing a costume of the "Samurai Champloo" character Mugen and carrying a replica katana sword on Sept. 10 outside of a strip mall in a Salt Lake City suburb. When police arrived at the scene, they were responding to a 911 call about a man with a sword.
Add cosplay to list of things that put black men in danger of murder by cop: Police shot black man with sword in back http://t.co/rPXHtpb0WE

— tdotsomebody (@tdotsomebody) October 29, 2014
Police also claimed Hunt lunged at the two arriving officers, swinging the sword. One of the officers fired three times, and then fired four more shots as Hunt ran away from them. The report found that of the six shots, four shots hit Hunt from behind.
The report confirmed the results of an independent autopsy requested by Hunt's family, who said the police treated him differently because he was black.
"I don't think anyone would have thought twice if it wasn't someone with an afro," his mother, Susan Hunt, told USA Today. Police say race wasn't a factor, adding that the two officers involved were white.
READ MORE: St.Louis protest: 'Armed' black teen shot by cop 17 times
The family's lawyer, Robert Sykes, said the gunshot trajectories indicate that Hunt was turning away when he was hit.
"I think that means they were pursuing him, he was running away. He was probably scared to death," said Sykes, according to AP.
Hunt's family disputes the account that the young man attacked the cops, and say the 2.5-foot sword – which did not have a sharp edge – was bought at a gift shop and was purely decorative.
READ MORE: Local police kill at least 400 people a year, mostly minorities
"They killed my son because he's black." - Susan Hunt http://t.co/YRJUZ7zKDG (Photo by M. Tessier/Deseret News/AP) pic.twitter.com/Dql5HsLlJo

— msnbc (@msnbc) September 16, 2014
Sykes also said a witness has a photo showing Hunt smiling as he talked to Cpl. Matthew Schauerhamer and Officer Nicholas Judson before being fatally shot.
The county's investigation into whether the shooting was legally justified is expected to wrap up by next week.
READ MORE: Ohio cops killed Walmart air gun-wielding man moments after confrontation, new video shows