Local police kill at least 400 people a year, mostly minorities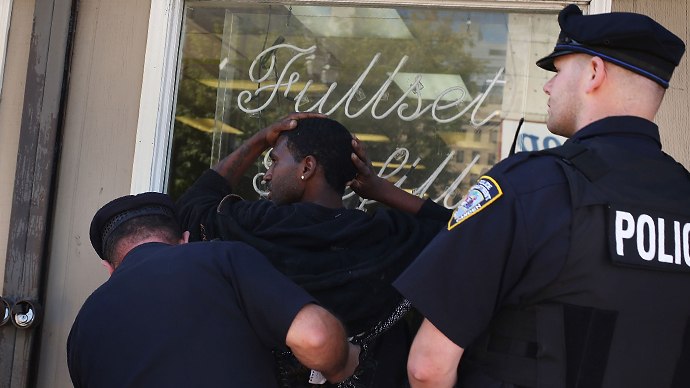 A white police officer in the United States killed a black person on average of twice per week from 2005 to 2012, according to homicide reports offered to the FBI. But this data is limited, as only about 4 percent of law enforcement agencies contributed.
There was an average of 96 such incidents out of at least 400 police killings each year that local police departments reported to the FBI, according to analysis conducted by USA Today.
The analysis comes in the wake of the fatal police shooting by a white officer of unarmed black teenager Michael Brown in Ferguson, Missouri that has set off national outrage over US law enforcement's aggressive use of deadly force, incongruent targeting of minorities, and a militarized posture that treats citizens as the enemy.
The FBI report shows that 18 percent of African-Americans killed during those seven years were under the age of 21. Whites killed that were under the age of 21 came out to 8.7 percent.
As USA Today noted, only around 750 agencies - out of the 17,000 law enforcement entities across the United States - offered such data to the FBI.
On top of the limited participation, the self-reported contents of the database are considered incomplete. The data are not audited after submission to the FBI, and information on "justifiable" homicides has often been at odds with independent statistics gathered on police fatalities.
''There is no national database for this type of information, and that is so crazy," said Geoff Alpert, a criminologist at the University of South Carolina. "We've been trying for years, but nobody wanted to fund it and the (police) departments didn't want it. They were concerned with their image and liability. They don't want to bother with it.''
Alpert added that the limited FBI data - the most complete record of people killed by US police - can show that a death had occurred, but it is reliable for little else.
"I've looked at records in hundreds of departments, and it is very rare that you find someone saying, 'Oh, gosh, we used excessive force.' In 98.9 percent of the cases, they are stamped as justified and sent along," Alpert told USA Today.
The International Association of Chiefs of Police, on the other hand, said police use of force is blown out of proportion. Based on data from the Bureau of Justices Statistics in 2008, the group said less than 2 percent of 40 million people who had contact with police passed along complaints that officers used or threatened force.
"In large part, the public perception of police use of force is framed and influenced by the media depictions which present unrealistic and often outlandish representations of law enforcement and the policing profession,'' the group said in a 2012 report.
Nevertheless, many independent studies of police shootings in major US cities have come to the conclusion that minorities are disproportionately targeted for police violence.
"We need not look for individual racists to say that we have a culture of policing that is really rubbing salt into longstanding racial wounds," NAACP president Cornell Williams Brooks told Mother Jones.
Brooks added that in the US, many people suspected of minor crimes are confronted with "overwhelmingly major, often lethal, use of force."
Meanwhile, officers are rarely convicted or sentenced for killing a suspect.
"Unfortunately, the patterns that we've been seeing recently are consistent: The police don't show as much care when they are handling incidents that involve young black men and women, and so they do shoot and kill," said Delores Jones-Brown, law professor and director of the Center on Race, Crime, and Statistics at the John Jay College of Criminal Justice in New York City, according to Mother Jones.
"And then for whatever reason, juries and prosecutor's offices are much less likely to indict or convict."
The US Justice Department is investigating at least 15 police agencies in the US for systemic abuse, including allegations of excessive force, racial profiling or false arrest.
You can share this story on social media: