8 white cops, 1 black homeless man, 46 bullets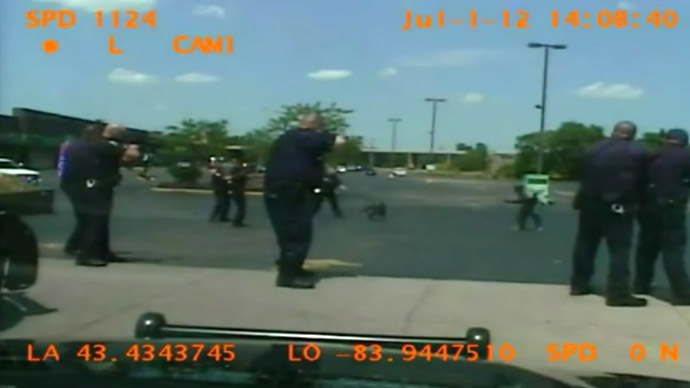 A video has surfaced showing a homeless man being shot dead by eight police officers as he held a small penknife. 46 bullets were fired.
Milton Hall, 49, has been described as "a community worker, and he was always there speaking out for those whom he considered the weak, for those who did not have the strength to speak for themselves," according to the American Civil Liberties Union, which released the disturbing video.
Given such seemingly clean credentials, it's unfathomable to imagine such a person being shot over a dozen times for merely holding a pen knife at a safe distance from police officers. But that's exactly what happened in July 2012 in Saginaw, Michigan, after Hall got into an argument with police following an alleged fight with a store clerk.
READ MORE: St. Louis teen shot 6 times from behind – independent autopsy
The graphic video, taken by a bystander, shows Hall in a parking lot surrounded by eight police officers, all of whom have their weapons drawn and aimed at him. One of the officer's orders Hall to drop his weapon. He refuses. After a period of about 10 seconds the officers open fire, with Hall appearing to be dead before he hit the ground.
Of the 46 shots fired, Hall had been hit 14 times.
As if that were not enough, the officers are seen in the video attempting to handcuff the mortally wounded man.
One onlooker can be heard asking, "Why did they have to shoot him so many times?"
Nevertheless, the US Department of Justice said it failed to find"sufficient evidence of willful misconduct" to press charges against the policemen, saying that Milton Hall and his pen knife presented a threat to eight armed police officers.
His mother, Jewel Hall, who believes that her son was "assassinated," has been searching for justice for the past two years to no avail.
"His blood running down the street like water. And he wasn't a threat, I mean, he had a little pen knife. He had no idea that those policemen would do that to him...As long as he was on his medication and all, he did fine. It was when he wasn't on his medication that he was impatient," she said in an interview conducted by the ACLU.
"To have eight people stand in front of one human being and shoot at him 46 times and hit him 14 times – it's been devastating to our family. It was devastating to the community, to everybody. And justice still has not been served."
Today the ACLU is presenting this video at a conference about racial disparities in the US criminal justice system before the Inter-American Commission on Human Rights, which is part of the Organization of American States. The surfacing of the graphic video comes at a particularly sensitive time in the US, where the nation is still grappling with the killing of 18 year-old African-American Michael Brown, who was shot by a white police officer in August in Ferguson, Missouri, sparking days of protests and violence that continues to simmer.
Meanwhile, Milton Hall's mother says she has dedicated her life to working "with parents whose kids have been similarly killed."
"What needs to change is how police deal with situations like the one that ended in my son's death," she said in her ACLU interview. "The elected leaders and community leaders must address conditions that allow police to use excessive and deadly force with impunity."
You can share this story on social media: