​Charges dropped for #PayPal14 hacktivists, company launches #PayPal15 trend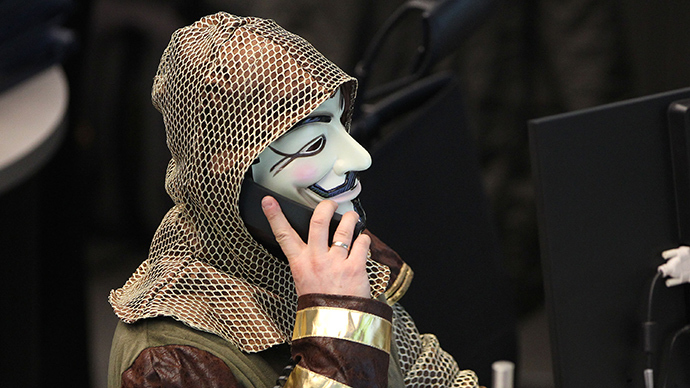 Felony charges have been dropped against 11 of the 14 Anonymous-linked hacktivists who pleaded guilty to waging a cyber-attack on the PayPal website. Meanwhile, the company has been derided on Twitter for launching a new promo campaign tagged #PayPal15.
Known as part of the "PayPal 14," the 11 originally reached plea deals with federal prosecutors in December 2013, admitting their participation in an online attack that briefly took down the PayPal website nearly four years ago.
After entering guilty pleas to one felony count of conspiracy and one misdemeanor count of damaging a computer, their sentencing was delayed for nearly a year. If the defendants could demonstrate good behavior during that time, they could potentially escape only with probation and restitution payments.
The defendants appeared in federal court on Wednesday, where each person heard whether the court would follow through with the charges or drop them, according to Texas-based journalist Douglas Lucas.
#PayPal14: Ethan Miles says "public must be informed," that he acted out of "hope to live in a world" without war, & more.

— Douglas Lucas (@DouglasLucas) October 29, 2014
While each of them will still be responsible for paying $5,600 in restitution, that is drastically lower than the $5.5 million in damages that PayPal claimed occurred when its website was taken offline in December 2010.
Some defendants will be under probation until their restitution has been paid, while others' probation time has been considered served.
While 11 defendants pleaded guilty to both felony and misdemeanor charges, two others pleaded guilty only to misdemeanors, which carry a potential prison sentence of 90 days. The final member of the PayPal 14 was not eligible for a plea deal, as he stood accused of helping a separate group of people take down other websites around the same time.
The years-long saga began in 2010, when an online operation led by Anonymous executed a series of distributed denial-of-service (DDoS) attacks against PayPal, Visa, MasterCard, and some major banks. The move was described as an act of digital protest against the company for its decision to stop processing payments to WikiLeaks, which was publishing secret documents and leaking news from anonymous sources.
#PayPal14: @Anthrophobic says he's feeling freedom; Josh Covelli: "Dude I'm so relieved." A picture "without lawyers" pic.twitter.com/9tURRrdqG4

— Douglas Lucas (@DouglasLucas) October 29, 2014
Although more than 1,000 computers were reportedly hit as part of the DDoS attack, federal prosecutors brought charges against just 14 people under the Computer Fraud and Abuse Act (CFAA). Originally, prosecutors were looking for sentences of up to 10 years in prison and maximum fines of $250,000.
Stanley Cohen, a defense attorney for one of the accused, said last year that the terms of the plea deal were reached "based upon strength, not weakness; based upon principle, not acquiescence."
"It did not involve cooperation and did not involve any of the defendants renouncing their conduct. They all stood up and said, 'We did what you said we did...We believe it was an appropriate act from us and we're willing to pay the price.'"
With the felony charges now dropped and restitution payments considerably lower, the conclusion raises the possibility that the US government may be softening its stance against so-called hacktivism and digital forms of civil disobedience.
Following the suicide of noted internet activist Aaron Swartz in January 2013, Rep. Zoe Lofgren (D-Calif.) proposed making changes to the broad requirements of the CFAA. Swartz was being prosecuted for hacking into the Massachusetts Institute of Technology's JSTOR archive and stealing academic journals.
#PayPal15?!
News of the hacktivists having their charges dropped sparked an outpouring of joy among supporters on social media, who routinely defended them using the hashtag #PayPal14.
However, those supporters soon noticed that PayPal had started its own hashtag, #PayPal15, in order to celebrate its 15th anniversary.
#Tech trends have come and gone, but our belief that #PeopleRule hasn't: http://t.co/4iFUOzL03n. #PayPal15pic.twitter.com/C5ghK8KkXO

— PayPal (@PayPal) October 29, 2014
A PayPal tweet promoting the new hashtag the same day that the PayPal 14 appeared in court triggered a wave of outrage online, with both backers of the group and random people expressing their anger, surprise, or amusement at the coincidence. Some called it a "marketing fail," while Anonymous claimed the move was in order to "censor" the #PayPal14 moniker and keep it from trending.
.@PayPal must have thought it was cute to come up with #Paypal15 tag on the day of sentencing for #PayPal14. SUPPORT: http://t.co/efHX0e4xLJ

— Captain Howdy (@jackherer20) October 29, 2014
Yeah @small_affair it looks like @PayPal tried to commit noise censorship to drown out #PayPal14 but failed miserably.

— Anonymous (@YourAnonCentral) October 29, 2014
As a result, some users hijacked PayPal's hashtag and used it to disparage the company and its marketing efforts, as well as Pierre Omidyar, whose eBay now owns the firm.
lol, #paypal15 used by @paypal@pierre to cover up not standing up for freedomfighters #paypal14 is the marketingmistake of the year.

— Support paypal14 (@kaatje36) October 29, 2014
It remained unclear if the naming convention was intentional, as PayPal first used the hashtag on October 16.
You can share this story on social media: