Drunk 'zombie' arrested for DWI two times within three hours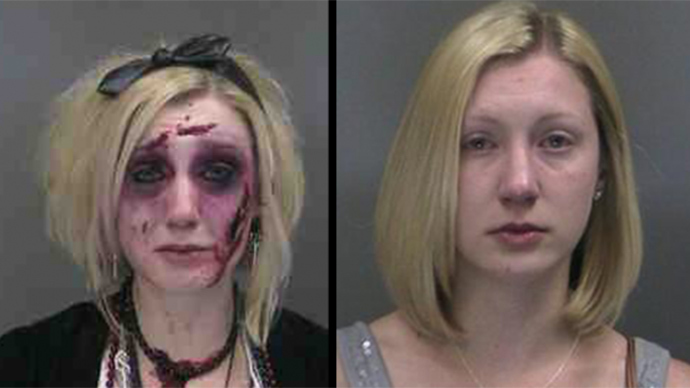 A New York woman ended up showing off her Halloween costume to the police this week after she was arrested for drunk driving while donning "zombie" make-up.
The publically available mugshot taken of 26-year-old Catherine Butler early Saturday is now making waves on the internet because of the woman's appearance in the picture.
According to KRON News, Butler was busted early Saturday by police while driving through the town of Gates, NY near Rochester without her headlights on. When the cops stopped her vehicle, which reportedly had just left an area party, they saw that their suspect was dressed up like a zombie, complete with face paint and fake scars
Butler was reportedly brought to a local police station and charged with driving while impaired, and then was released into the custody of a friend that picked her up and drove her home. Less than three hours later, however, Butler was back in the hands of the police after an officer stopped her again, this time for swerving down a local road.
According to WFLA-TV, Butler's blood alcohol level was beyond the legal limit of .08 after both stops—a limit she likely was aware of given that Saturday's altercations were her third and fourth DWIs, according to local media.
"Two prior driving while impaired convictions and 26 years old and she's still out driving drunk. It's just hard to understand why people continue to do that and the consequences of continuing to do that," Gates Police Chief James Vanbrederode told Rochester's 13 WHAM News.