​E-wallet wars? Apple Pay blocked by CVS, Rite Aid, Walmart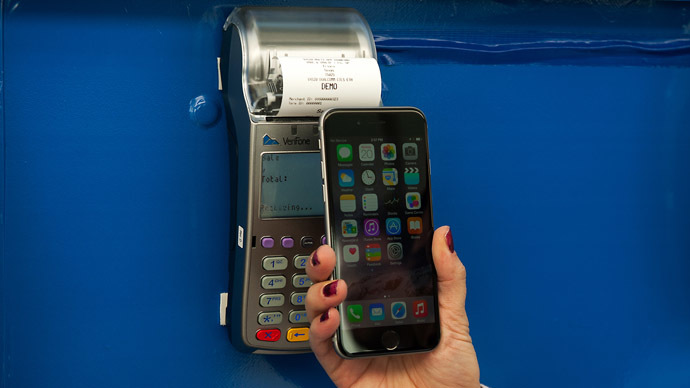 The rollout of Apple Pay has quickly become tougher than expected for the trendy iPhone manufacturer, as retail outlets CVS, Rite Aid and Walmart joined various other stores in rejecting the new mobile payment system.
Although CVS and Rite Aid were accepting Apple Pay following its launch roughly a week ago, the New York Times reports that both companies pulled the plug on the e-wallet over the weekend. There was no explanation given for the abrupt reversal, but both outlets are part of a retail group connected to the Mercant Customer Exchange (MCX), which is trying to piece together its own similar payment system called CurrentC.
The move follows announcements by Walmart, Best Buy, Target, Dunkin' Donuts, and more than a dozen others, all of whom are also part of MCX and have chosen to shy away from Apple Pay.
When the highly-publicized mobile wallet launched, Apple boasted that more than 200,000 stores around the United States would accept the method as a form of payment. While that may still be the case, it looks increasingly like MCX will try to keep Apple at bay – unless customers demand its implementation. In total, MCX members make up more than $1 trillion in yearly sales across the US, according to the Times.
Both Apple Pay and CurrentC allow shoppers to make purchases with their smartphones, but the two differ in a couple of ways. Apple employs an NFC chip to ensure interaction between iPhones and retail kiosks, while CurrentC requires customers to scan a QR code. Apple Pay allows users to store credit cards on the phone, whereas CurrentC lets customers pay directly from linked bank accounts.
Some retailers are avoiding Apple Pay because their kiosks don't feature NFC technology, meaning they would have to spend money on upgrades. However, Best Buy, Rite Aid and CVS already have this technology in place, USA Today reported, so it is possible that MCX contracts require them to freeze Apple out. On the other hand, there is speculationsthey may simply be choosing to stand with those helping them build CurrentC.
Another reason that MCX members may be resisting Apple Pay is that they are looking to avoid paying transaction fees to credit card companies. Notably, CurrentC only requires a working bank account for purchases, not a credit card.
However, an Apple representative told the Daily Mail that most stores have welcomed the new payment method.
"The feedback we are getting from customers and retailers about Apple Pay is overwhelmingly positive and enthusiastic," the representative said. "We are working to get as many merchants as possible to support this convenient, secure and private payment option for consumers. Many retailers have already seen the benefits and are delighting their customers at over 220,000 locations."
Still, this is not the only setback Apple Pay has suffered post-launch. Last week, the company apologized to Bank of America account holders who were double charged for purchases when they used the e-wallet. The glitch led to refunds for affected customers, though Bank of America said "only about 1,000 transactions" were involved.
You can share this story on social media: