Going with the flow? Lava from Hawaiian volcano threatens village ( VIDEO)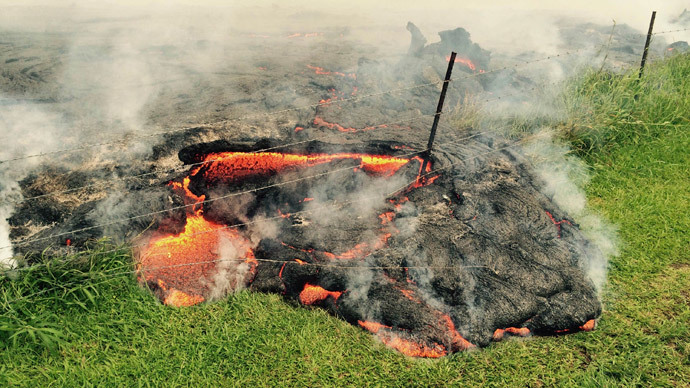 Residents of a Hawaiian town are set to have to flee as lava, traveling at three meters an hour, nears their homes. The closest dwelling to the lava flow is less than 100 meters away, with 50 to 60 buildings in its immediate path.
The people of the town of Pahoa have been well aware of the Mt. Kilauea volcano for decades, as it has been erupting since 1983. However, the vast majority of the lava went south and straight out into the ocean. In June a new vent opened, which put the lava flow on a collision course with the settlement.
They are now facing the prospect of having to abandon their homes as a juggernaut of molten lava 10.5 meters wide and over 1,000 degrees Celsius melts everything in its path.
Darryl Oliveira, the Hawaii County Civil defense director, has already issued a preliminary evacuation notice over the weekend to those residents in the most immediate danger. He also added that the first evacuations may have to take place on Tuesday, if worse comes to worst.
"The current timelines are based on the current flow rates, and that could change…speed things up, as well as slow things down. The key is that we will be watching the flow 24/7," he told reporters.
Next time you think you have traffic problems, think of Apa'a street on Kilauea volcano, Hawaii: Sat AM pic.twitter.com/q88kzyQYOe

— Landon Curt Noll (@landonnoll) October 26, 2014
Due to the lava flow's relatively slow pace, local authorities have had time to take precautions, including wrapping electricity poles in very thick insulating foil - certainly not the type you would wrap your Thanksgiving turkey in - and place a six meter barrier around them filled with crushed rocks and cinders.
"We are encouraged by the initial result of the pole protection design," power company spokeswoman Rhea Lee said, according to the LA Times. "But the long-term results are still not determined. As the lava flow progresses, we expect the lava will rise and inflate."
The Kilauea volcano lava flow moves through an open field after passing through a Pahoa cemetery. pic.twitter.com/JGexJDbK0C

— John Drugan (@DruganWxUpdates) October 27, 2014
Methane explosions have been heard locally, with Janet Babb, who is a geologist and spokeswoman for the Hawaiian Volcano Observatory, saying they were a bit unnerving.
"At the time that it happened, it was such a rumble I thought it was thunder and that we were about to be struck by lightning," she said, as reported by AP.
Not the time 2 vacay in Hawaii MT @RT_com Kilauea volcano triggers evacuation fears in #Hawaiihttp://t.co/A02L59WJMWpic.twitter.com/5wuvAeTwMg

— Sicily (@NadiaPTI) October 27, 2014
Residents have been fairly philosophical about the onset of the lava flow. One man, Robert Shioshita, said "I know how the other people feel because I'm in it this time. No one can do nothing [sic]. It hurts, but its Pele's land and she's reclaiming," he said, referring to the Hawaiian volcano god.
His neighbor Alfred Lee says that he is not planning to leave till the last minute, but does accept that he will have to flee his home sooner rather than later.