Signs of Ebola: Animated deaf interpreter at NYC press conference goes viral
While an Ebola news conference should have been grabbing the headlines, a sign language translator stole the show. The signer has now gone viral on social media, with some even questioning whether he was a legitimate interpreter.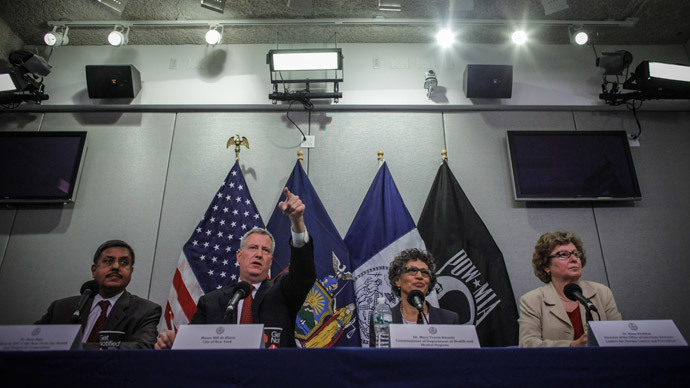 The media conference was headed by New York Mayor Bill de Blasio and health officials, who were giving updates on the city's first case of Ebola on Friday. However, as the officials continued, attention started to be diverted to a man sitting on the very left of the platform.
The man was there to provide a sign language translation and he managed to get very animated as the speeches went on, underlining the severity of the problem. At one point, it seemed as though he was communicating with another signer, who was sitting in the audience.
Bill de Blasio speaks about #ebola patient in #NYC, sign language interpreter looks suspiciously like #DaveGrohlpic.twitter.com/BSzkTvDlww

— Abby Norman (@abbyexplains) October 24, 2014
Let's be real, the NYC Ebola sign language guy was just spelling out Rush lyrics.

— daveweigel (@daveweigel) October 24, 2014
This sign language guy at the NYC ebola press conference is just captivating. Such a dramatic signer.

— Tom (@the_otg) October 24, 2014
It was not long before the public started to take notice and took to social media in their droves to comment on the unusual interpreter.
Whatever They're Paying The Sign Language Interpreter at This Ebola Press Conference, It's Not Enough (Video) http://t.co/GhfdHyAg0k

— David A. Wright (@DavidAWright1) October 26, 2014
Hahaha --- SIGN LANGUAGE(deaf) FOR #EBOLA AS #NEWYORK MAYOR SPEAKS. #liberia#uganda#isis#EbolaInNYC#ebolajokespic.twitter.com/9vNgNtYRpL

— Mwanja Louis (@mwanjalouis) October 26, 2014
Watching @BilldeBlasio#Ebola news conference at repair shop. Most here are convinced his sign language interpreter is faking it.

— Michael Wallace (@MikeWallaceWCBS) October 24, 2014
This is not the first time that has signer has grabbed the headlines at a major event. At Nelson Madela's funeral in December 2013, South African Thamsanqa Jantjie appeared on stage and proceeded to conduct fake sign language gestures during the dignitaries' speeches - including by US President Barack Obama - in an event that was watched by 95,000 mourners at Soccer City stadium in Johannesburg and millions around the world.
"There was zero percent accuracy. He couldn't even get the basics right. He couldn't even say thank you," Delphin Hlungwane, a South African sign language interpreter at DeafSA, told Reuters.
Jantjie later claimed he was suffering a schizophrenic episode at the Mandela memorial service.
Read More: 'Fake' Mandela signer faced murder, kidnapping charges – report
South African broadcaster, eNCA investigations, discovered that Jantjie, who is receiving treatment for his schizophrenia, has also faced rape (1994), theft (1995), housebreaking (1997), malicious damage to property (1998), murder, attempted murder and kidnapping (2003) charges.
You can share this story on social media: