'Fake' Mandela signer faced murder, kidnapping charges – report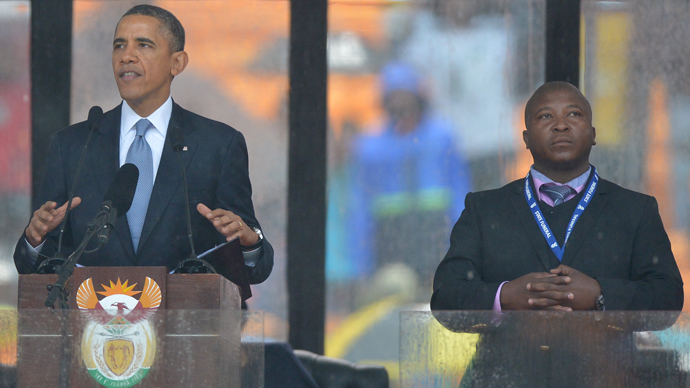 Thamsanqa Jantjie, who has shot to infamy over the 'gibberish' sign language gestures he used translating world leaders at Nelson Mandela's memorial, was reportedly accused of murder 10 years ago.
Jantjie claimed he was suffering a schizophrenic episode at the Mandela memorial service.
National channel, eNCA investigations, discovered that Jantjie, who is receiving treatment for his schizophrenia, has also faced rape (1994), theft (1995), housebreaking (1997), malicious damage to property (1998), murder, attempted murder and kidnapping (2003) charges.
The outcome of the reported murder case was apparently unclear. However, eNCA stated that many of the charges filed against him were dropped because he was considered mentally unfit.
Court records show that the 2003 murder, attempted murder and kidnapping case filed against Jantjie was referred to the South Gauteng High Court in 2004 before being finalized in November 2006. However, the court file for the case is apparently empty.
Officials have stated that they are investigating these revelations. However, it still remains unclear why a man who is a self-confessed schizophrenic with violent tendencies was allowed to stand a mere three feet away from world leaders, including US President Barack Obama, who is reputedly the most well-protected man on the planet.
Jantjie caused international embarrassment for South Africa after the fiasco of his sign language translation in front of a worldwide television audience at the memorial for Nelson Mandela, who died on December 5 at the age of 95.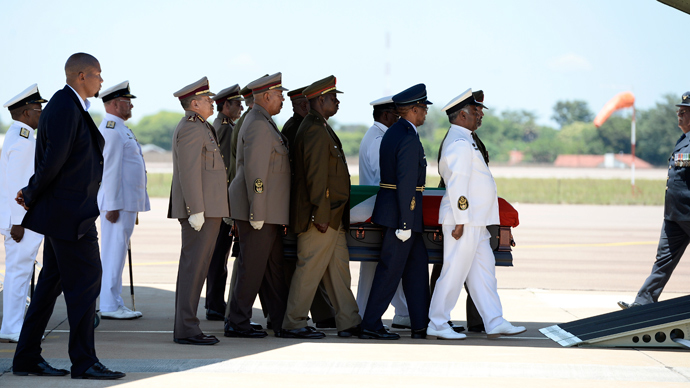 The investigators "will compile a comprehensive report", government spokesperson, Phumla Williams, told AP. However, she did not reveal how deep the investigation would probe. "We are not going to sweep it under the carpet," Williams said.
Jantjie claimed on Thursday that he lost concentration at Mandela's memorial, began hearing voices and suffered from hallucinations which, according to the AP, apparently included angels. He did not know what brought on the attack, although he said the jubilation he felt that day could have played a part in it. He added that he currently takes medication to treat his schizophrenia, according to the South African newspaper, The Star.
He told the AP that he had been violent 'a lot' in the past, while at the same time defending his interpreting skills. His claims were rebutted by representatives of organizations for the deaf, who accused him of neither knowing how to sign 'Mandela' nor 'thank you'.
"I think that I've been a champion of sign language," Jantjie maintained.
According to the AP, officials at the Gauteng High Court in Johannesburg, where the attempted murder charge was allegedly filed, have not been available for comment since the report.
You can share this story on social media: