Ebola fears see parents keep kids from Long Island school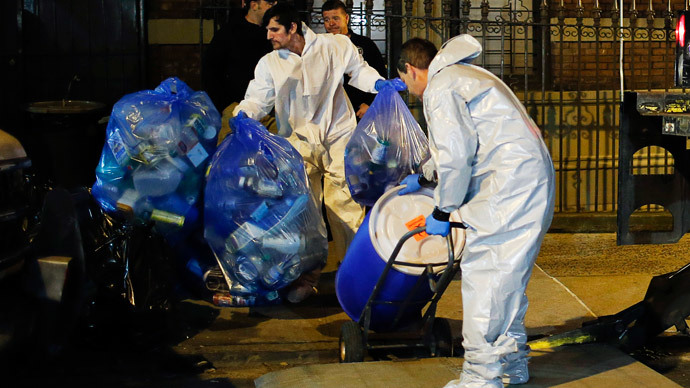 Almost 150 kids from the John Pearl Elementary School in Bohemia missed classes for an entire day after their parents learnt of a student's relatives coming for a visit from Guinea, one the countries hit hardest by the Ebola outbreak.
A second-grade student's aunt and cousin arrived from Guinea and are staying at the family's apartment, according to local news outlets. Many parents of other students have expressed their concerns over the matter, and have forbidden their kids to go to school: more than 150 pupils were absent on Friday, two-thirds of the student body.
"I feel like they're putting the needs of one child ahead of everyone else. And everyone is very nervous," said Rich LaRosa, one of the parents, told NBC New York.
"It's not the fever or the flu, it's something you could die from," Mike Catera, another parent, added.
READ MORE: 3yo banned from Italy kindergarten over Ebola fears
The students "touch everything, they share bathrooms, they share water fountains and there's so much uncertainty about how you contract Ebola, and I would rather be safe than sorry," parent Bernadette O'Connor said.
There are no signs of the student's relatives having Ebola, and the authorities have run screenings to confirm this.
READ MORE: 'I am a Liberian, not a virus' campaign fights Ebola stigma plaguing West Africans
However, the student is voluntarily staying at home for three weeks, the school district declared.
"The [pupil's] parents have kindly taken this step to help calm the concerns of other parents and to ensure that there is no interruption in the education of the other students at the elementary school," the authorities stated.
After this step, parents expressed their relief and decided their kids would be back at school starting from Monday.
It comes on the backdrop of a New York City doctor being confirmed as having Ebola, the fourth case of the deadly virus in the US.
Consequently, the states of New York and New Jersey imposed automatic 21-day quarantines on all doctors returning from the Ebola-affected West African countries. The measures may be implemented all over the country later.
You can share this story on social media: