#DontLookAtTheSun: Final 2014 solar eclipse stuns N. America (PHOTOS, VIDEO)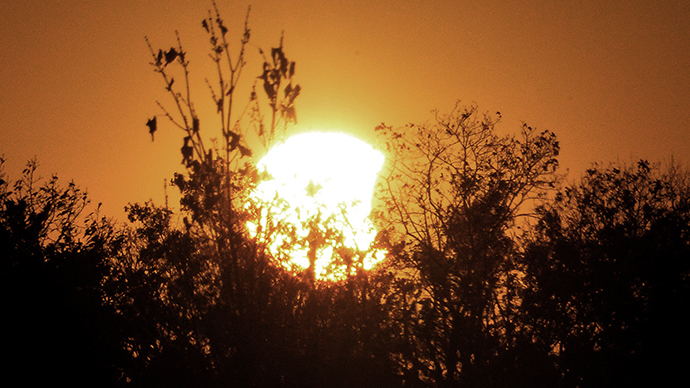 The moon blocked out a significant piece of the sun in partial solar eclipse giving extra thrill to the sunset. The US will have to wait for 2023 to witness anything similar.
The skies of North America darkened for a short time on Thursday afternoon, as the moon covered part of the sun. Most of the continent could enjoy the eclipse, apart from the eastern coast of Canada and the US' New England.
Challenger jet approaches Pearson Airport during partial solar eclipse today in Mississauga. pic.twitter.com/LXy7AHF6NZ

— Randy Attwood (@RandyAttwood) October 24, 2014
The moon's shadow first touched Earth's surface near Russia's Kamchatka Peninsula at 19:37 GMT.
But the best view was saved for the northern USA and the Canadian Arctic, where up to 81 percent of the sun was covered, according to NASA.
However the eastern halves of the USA and Canada scooped the most luck – there the eclipse coincided with the sunset.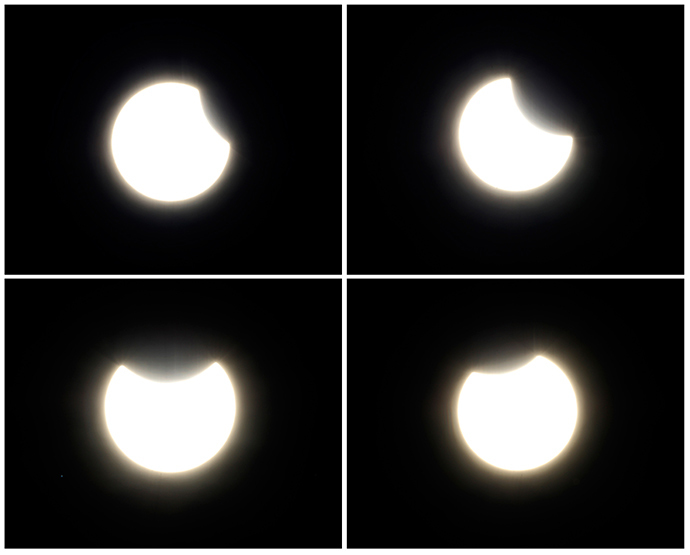 #DontLookAtTheSun hashtag on Twitter warned sun-gazers against viewing the eclipse directly or through unprotected binoculars.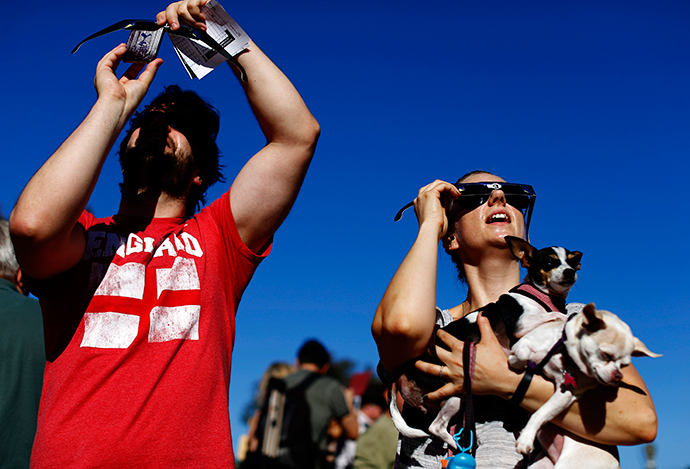 Hundreds of people gathered in the shadow of the moon across the continental USA, equipped with binoculars and telescopes, as well as pinhole cameras.
Checking out solar eclipse at PCC- East #DontLookAtTheSunpic.twitter.com/cvoOXAB6UQ

— Michelle Martinez (@ma338nau) October 23, 2014
This is the third eclipse visible in the US this year - the first two were lunar ones in April and earlier in October.
Solar #eclipse right now as seen from Denver. pic.twitter.com/YJodusO1qv

— Clayton Sandell (@Clayton_Sandell) October 23, 2014
Pics from today's partial solar eclipse. #solareclipse@globalnewspic.twitter.com/GBVb9pYF1R

— Nicole Mortillaro (@NebulousNikki) October 24, 2014
Astronomers promise US citizens an even better view in year 2017, when on August 21 the eclipse will be seen from 48 states – and it will be total.
Oct 23/14 Partial Solar Eclipse It was raining but miraculously clouds moved away from the sun! North Vancouver, BC pic.twitter.com/QEnRWIYdF4

— Yuichi Takasaka (@ytakasaka) October 24, 2014
Sunset at St. Pete Beach.... with a bite missing. :) Partial solar eclipse tonight. pic.twitter.com/kPo9ld8pGo

— Leesa Brown (@ReasonVsFear) October 23, 2014
A partial eclipse occurs when the new moon stands in a nearly straight line between the Earth and the sun, and only two to five solar eclipses occur annually.
Thought I missed the eclipse, but managed to get the end with my test shot #eclipse #sun #solareclipse #dslr #nikon

A photo posted by Stephanie Cantwell (@dotstephanie) on Oct 10, 2014 at 12:22am PDT
You can share this story on social media: