'Fun Police': New England town keeps ban on kids playing in street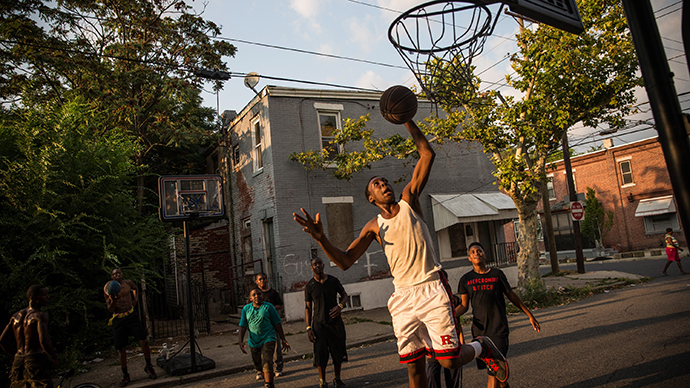 North Attleboro, Massachusetts will continue to prohibit children playing games in the street after attempts to change the relevant bylaw failed despite many of the town's residents questioning whether police have more pressing laws to enforce.
Town Selectman Patrick Reynolds introduced the change to the bylaws, which prohibit playing "any game in which a ball or any other object is used, fly any kite, or throw stones, missiles or other objects in any street, public way or sidewalk," the Attleboro Sun Chronicle reported.
The freshman at Rhode Island's Providence College believes the regulation's wording is vague, and notes other issues with the rule as written.
"You can't play a game where an object is used. Does that mean biking is illegal? Does it mean kids can't trade Pokemon cards or use an app on a cell phone while they're in the street?" he asked in the Sun Chronicle.
His goal was to update the language, removing "play at any game in which a ball or other object is used," and adding "or other similar dangerous objects," he said.
Catch me on Fox 25's morning show tomorrow at 9am to discuss our fight to overturn the ban on street sports pic.twitter.com/i0NQjFPKrW

— Patrick Reynolds (@PatReynolds123) September 22, 2014
But Police Chief John Reilly came out against Reynold's proposal, saying it would give the impression that the town condones the "dangerous practice" of playing in the street.
"By removing the wording of that article, you're giving permission for people to play in the street and you're creating a hazard," he said. "I don't want to give approval for people to put themselves in a bad situation. We're doing what we can to keep the kids safe."
The chief noted at a public hearing that police use discretion when applying regulations in North Attleboro.
Reynolds argued at a September finance committee meeting that police had more pressing responsibilities than breaking up children at play on a dead-end street.
"We need to be careful on how we use resources. I'd hate to see police officers on one side of town responding to a pick-up game, so they can't respond quickly to an emergency on the other side of town," he said.
Reilly disagreed. "I can't think of a more serious public safety issue than a child getting hit by a car," the chief replied.
Finance committee members also debated whether the ban was too encompassing, according to the Sun Chronicle.
"We grew up doing this. If you're telling kids they can't play on a public street that has zero traffic on it, you're starting to limit people," Barry Silver said. "Would you let your kid play on Route 1? No. Would you let your kid play on a dead-end street?"
Cathy Morine responded, "No. Look at how much traffic there is now and how much road rage has increased. If one child dies, that's on us. Don't play in the street, that's not acceptable."
@PatReynolds123@SCNAttleboro this is just common sense.. The law is over reaching #kids#GoodStuff

— Michael St.Pierre (@mstpierre544) September 19, 2014
Neither Reynolds nor Reilly spoke at the Semi-Annual Town Meeting on Monday, where Resident Town Meeting (RTM) members focused on enforcement.
RTM member Paul Couturier voted against the proposal, according to the Sun Chronicle. But he did note that "if the bylaw in question remains on the books, then it needs to be consistently enforced. If it isn't going to be consistently enforced, it needs to be modified."
Another member, Robert LeBoeuf, didn't believe consistent enforcement of the regulation was possible.
"How many times is someone going to get a call because a kid is playing basketball in a cul-de-sac? Having this specific policy targeted at one activity is ridiculous. It should not be a law that is enforceable in the first place," he said.
Last Thursday, the town's Board of Selectmen had voted 4-1 against Reynolds' proposal, encouraging him to find a compromise with Reilly, Wicked Local's Peter Cox reported.
"I suggest you work with the police chief and come to an agreement," Selectman John C. Rhyno said. "The best agreement is the one you don't agree with, and the one he doesn't agree with. Keep plugging away."
Saw an 18 year old town selectman on the news. This dude is a freshman at PC and he is fighting laws regarding playing ball in the street

— maxine (@itsmaxinebitch) September 22, 2014
Reynolds, who was a child not too long ago himself, said that he didn't know there was a bylaw against playing in the street until this summer.
"Like so many families in North Attleborough [sic], I never knew as a kid that playing games in the street was against the law. This proposal all started this summer when some constituents approached me and told me that their pick-up game had been stopped by the police," he said at the meeting, according to Wicked Local. "They didn't even know that it was against the law, but we looked it up in the town by-laws and sure enough it was. After hearing their story, I thought it was time to reevaluate the ban."