Cornel West calls Sean Hannity 'brother,' Hannity says he'd bail him out of jail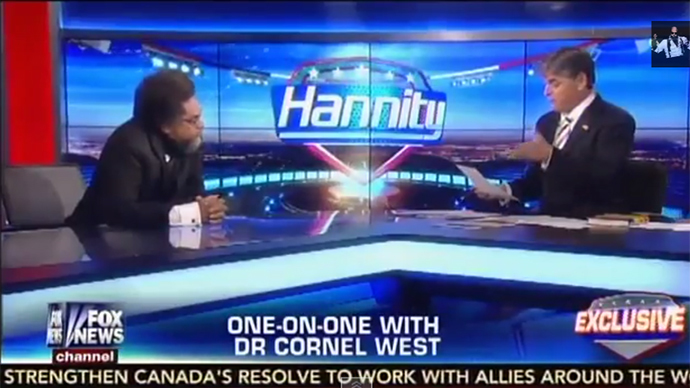 Author and activist Cornel West managed to find common ground with conservative commentator Sean Hannity of all people during a discussion on Fox News this week concerning the upcoming mid-term elections.
As Americans prepare to cast ballots in early November, both West and Hannity warned that voters should avoid being influenced by attempts from both the left and right to play the race card this Election Day.
The issue became a hot topic during an appearance on Hannity's Fox News program this week as political contenders are relying on race in order to stoke the emotions in viewers who catch the advertisements being played on TV and radio ahead of the upcoming elections.
"This drives me crazy," Hannity, well known to be a Republican, told West after airing a series of clips from current political adverts. "I'm a conservative. I believe we're all children of God."
"You and I agree with that," West responded, adding that it may "surprise a lot of people" that he considers Hannity his brother.
"He is my brother," West said. "Why? Because we're human beings."
Yet while West agreed that the two have differences with regards to certain issues, both found common ground when it came to discussing racially-charged ads.
"Does that disgust you as much as it does me?" Hannity asked of the race-centric ads. "That disgusts me."
"Well, I think that, as you know, I have a disgust in some ways with both parties," responded West, a Democrat, to the ads played by Hannity. "The Republican Party has always struck me as too mean-spirited when it comes to attitudes towards the poor and the Democratic Party is too … empty in terms of not taking a stand. But we just have to be clear: there's one standard. Stay in contact with the humanity of folks across the board. No racist appeals."
"We have to have a higher standard," West added. "Where is the integrity, honesty, decency across the board?"
Nevertheless, West said he thinks African-Americans in the United States will continue the tradition of overwhelmingly leaning left this Election Day.
"There's no doubt I think that black brothers and sisters will vote disproportionally for a Democratic Party because they still see in a Republican Party too many folk who when they talk about black people, it's a matter of black people themselves bearing all the responsibility or most reasonability as opposed to some of the societal institutions," West said.
The activist's remarks were made fresh off a recent stop in Ferguson, Missouri where he was among a group of protesters arrested last week during a demonstration outside of a local police station in the wake of the shooting of Michael Brown, an unarmed, black teenager, two months ago.
"I don't like seeing you arrested — you're a friend of mine," Hannity said to West during this week's segment. "I would have bailed you out if I knew you were arrested."
You can share this story on social media: