Man jumps White House fence, kicks dog, causes lockdown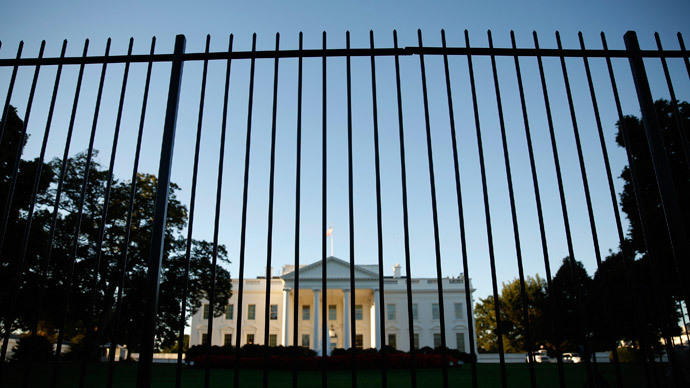 Just one month after the last White House fence-jumping incident, another man leaped over the barrier and kicked a Secret Service dog sent to attack him. The man was eventually arrested.
Currently, the intruder's name is unknown, though authorities say they arrested him on the north lawn of the White House on Wednesday. The White House was subsequently placed on lockdown.
Video footage obtained by Fox News shows that once inside the fence, the Secret Service sent in a dog to stop his progress. The man kicks one dog in the face, but another one takes him to the ground. Several agents can be seen surrounding the man as he struggles with the canine.
"Dogs got him," the spokesman said to Reuters, referring to the trespassing man.
The unnamed man was transported to a local hospital, according to ABC News.
This is the third fence-jumping incident since September, when two security breaches sparked nationwide scrutiny of the Secret Service. Ultimately, agency director Julia Pierson resigned from her post.
In September, Omar Gonzalez, a 42-year-old decorated Iraq War veteran who was in possession of a knife, bypassed the security fence surrounding the heavily-guarded White House grounds, ran to the north portico door and entered the executive mansion. He was apprehended and arrested by the Secret Service.
On Tuesday, a federal judge ordered authorities to conduct a 30-day mental evaluation on Gonzalez, a separate Reuters report stated. Unless he is found competent to stand trial, he cannot be arraigned on charges.
READ MORE: White House gets second barrier, security buffer following fence jumping incidents
Also in September, a 26-year-old New York state man with mental disabilities was detained for trespassing on White House grounds. Jeffrey Grossman was stopped by the Secret Service after he climbed over the fence. He was wearing a Pokemon shirt and hat, and carried a doll of the Pokemon character Pikachu.
In response to these security failures, the Secret Service established a second fence and increased its presence around the White House.
"This temporary closure is in effect while the Secret Service conducts a comprehensive review of the fence jumping incident," agency spokesman Brian Leary said.