Monica Lewinsky calls herself 'patient zero' of cyberbullying, joins Twitter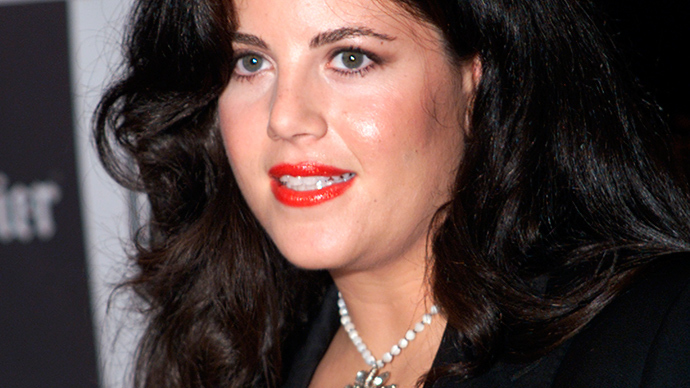 Former White House intern Monica Lewinsky says she endured years of ridicule over a high-profile affair with the president of the United States, and now wants to protect others from harassment by launching a "cultural revolution" against cyber-bullying.
Referring to herself as the "patient zero" of online harassment, the 41-year-old former Clinton administration intern told an audience at a forum in Philadelphia this week that she wants to focus on helping other victims of cyber-bullying to overcome the types of attacks and insults that nearly ruined her life almost a decade ago.
During the Monday morning event in Philly, Lewinski said that she was suicidal in the late 1990s after a highly-publicized affair with President Bill Clinton made her a household name and the butt of endless jokes.
Even at the dawn of the internet age, Lewinski said, the ridicule she received over the web was enough to have an impact. Now with cyber-bullying more rampant than ever, she said during Monday's forum — her first public address ever, according to Forbes — that she wants to rely on that experience to help others overcome that kind of harassment.
"There was no Facebook,Twitter or Instagram back then," she said at Monday's Forbes' 30 Under 30 summit. "But there were gossip, news and entertainment websites replete with comment sections and emails which could be forwarded. Of course, it was all done on the excruciatingly slow dial up. Yet around the world this story went. A viral phenomenon that, you could argue, was the first moment of truly 'social media'."
That story, of course, is the affair with Pres. Clinton that was published first by the Drudge Report in early 1998 and, within days, was making headlines around the world. Later that year, Clinton was impeached by the House of Representatives but acquitted by the Senate; on her part, Lewinsky eventually faded into obscurity until earlier this year when the New Yorker published a tell-all essay she penned concerning the scandal.
Speaking in Philly, Lewinski said that she faced consistent harassment as a result of the affair.
"Staring at the computer screen, I spent the day shouting: 'oh my god!' and 'I can't believe they put that in' or 'That's so out of context,'" she said. "And those were the only thoughts that interrupted a relentless mantra in my head: 'I want to die.'"
Nowadays, she added, instances of cyber-bullying have indeed placed others in that same state, such as Tyler Clementi, the Rutgers freshman who killed himself in 2010 after being outted as gay by his roommate and subsequently harassed.
According to Lewinsky, Clementi's story in particular inspired her to fight against cyber-bullying.
"That tragedy is one of the principal reasons I am standing up here today," she said. "While it touched us both, my mother was unusually upset by the story, and I wondered why. Eventually it dawned on me: she was back in 1998, back to a time when I was periodically suicidal; when she might very easily have lost me; when I, too, might have been humiliated to death."
— Monica Lewinsky (@MonicaLewinsky) October 20, 2014
excited (and nervous) to speak to #Under30Summit

— Monica Lewinsky (@MonicaLewinsky) October 20, 2014
She has since met with Clementi's parents, she said, and, according to Forbes, wants to help further speak out against cyber-bullying, beginning with the launch this week of her Twitter account, @MonicaLewinsky.
"Having survived myself, what I want to do now is help other victims of the shame game survive, too," Forbes quoted her as saying. "I want to put my suffering to good use and give purpose to my past."
Lewinsky has so far sent out only two tweets, but that has proved to be enough to attract more than 20,000 followers by Monday afternoon.