​Ebola hysteria soars to new heights in US schools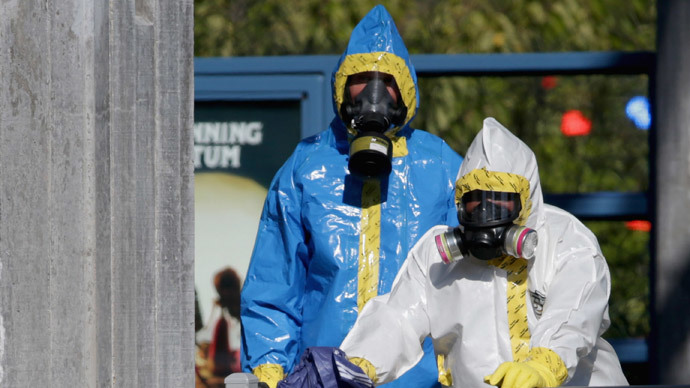 Ebola- scared parents have sent a Maine teacher on mandatory leave after he visited Dallas where first victim of the virus in US died. In Mississippi parents pulled their kids out of school because of the principal's trip to Zambia.
The Portland Press Herald reports that a Maine teacher was placed on a 21-day paid leave of absence in light of parents' concerns for their children's health. Community members feared the teacher may have contracted Ebola while on a visit to Dallas for an educational seminar.
The teacher stayed at a hotel 9.5 miles away from Texas Health Presbyterian Hospital, where the first US Ebola patient, Thomas Eric Duncan was diagnosed with the disease before he died, reports the Herald. Two Texas nurses are now being treated for the disease after contracting it from Duncan before his death.
Dora Anne Mills, former head of the Maine CDC and the current vice president for clinical affairs at the University of New England stressed that it is highly unlikely that the teacher is infected with Ebola. Ebola is not airborne disease and can only be transmitted through close contact with body fluids.
"Right now if I had a meeting in Dallas that I needed to take my children to, I would not hesitate," said Mills to the Portland press herald.
READ MORE:Ebola: Viral hysteria, media craze and fear mongering infect the globe
Currently there are 135 people being monitored in some capacity for signs of the disease in Dallas, a city of 1.25 million, reports the paper.
Meanwhile, In Hazlehurst, Mississippi a crowd of parents took their kids out of school last Wednesday after finding out that the school's principal, Lee Wannik, had recently returned from a funeral in Zambia, away according to a report WAPT News. Zambia is located on the other side of the African continent and 9,000 kilometers from countries devastated by Ebola in the west, and no cases of Ebola have been reported in the country.
Dr. Thomas Dobb's, Mississippi's epidemiologist quells parents fears, "The people we really need to pay attention to are those who have travelled only to Liberia, Sierra Leone and Guinea. If someone is coming back from another country in Africa, South Africa or some other place, there's really no risk," Dobbs told WAPT.
READ MORE:5 things about Ebola you should know
Wannik has agreed to take a paid vacation to put frightened parents' minds at ease.
"He did not want to be a distraction to the educational process and decided to take personal vacation leave and volunteered to go see any additional medical help that he could," Superintendent John Sullivan told WAPT.
Dr. Gene Beresin, Executive Director of The Clay Center for Young Healthy Minds, and a psychiatrist at Mass General and Harvard Medical School cautioned against unbridled panic spurred by confusion and misinformation as he urged parents to focus on facts.
"Parents have to curb their own anxiety and hysteria because it's contagious. It's more contagious than Ebola," he told NECN.
You can share this story on social media: