Obama's credit card declined at New York restaurant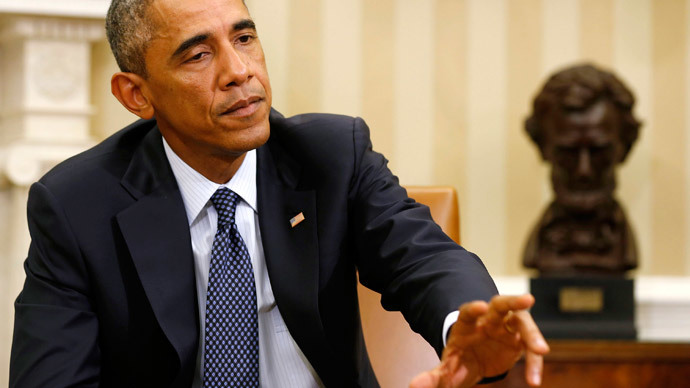 US President Barack Obama insisted that he really has been paying his bills, after his credit card was turned down at a posh New York restaurant. First Lady Michelle was forced to pick up the tab following the hiccup.
Obama revealed the slip-up as he was signing a new anti-fraud order into law on Friday at the Consumers Financial Protection Bureau. The law will make chip and pin technology compulsory on all federal government credit and debit cards, the Huffington Post reported.
"It turned out I guess I don't use it enough, so they thought there was some fraud going on. I was trying to explain to the waitress, 'No really, I think that I've, uh, been paying my bills.' So even I'm affected by this," he quipped.
Although the president said the incident happened in New York, he didn't specify where. However, it was previously reported that the Obamas visited the upmarket Estela restaurant in Manhattan last month.
READ MORE: Cybercrime costs half a trillion dollars annually - report
The order, signed by President Obama on Friday, encompasses several steps which are designed to give Americans better protection from fraud – the fastest growing form of crime in the US.
In addition to making chip and pin mandatory for all government credit and debit cards – technology which has been in use for a number of years in Europe – the order also requires law enforcement agencies to send credit and debit card information that they believe to be compromised to a national "Internet Fraud Alert System."
Chip and pin credit and debit cards will be introduced across the US from October 2015.
The restaurant incident was not the first time that Obama has experienced rejection. In August, the president was turned down by at least three exclusive New York golf clubs while visiting the area to attend an aide's wedding.
Local TV channel WNBC reported that the clubs said they were not given enough notice and could not accommodate the president's security team on one of their busiest days of the year. Nor did they wish to inconvenience their wealthy members who pay more than $100,000 a year in membership fees.
You can share this story on social media: