Hawaii scraps 'Obama beach' plan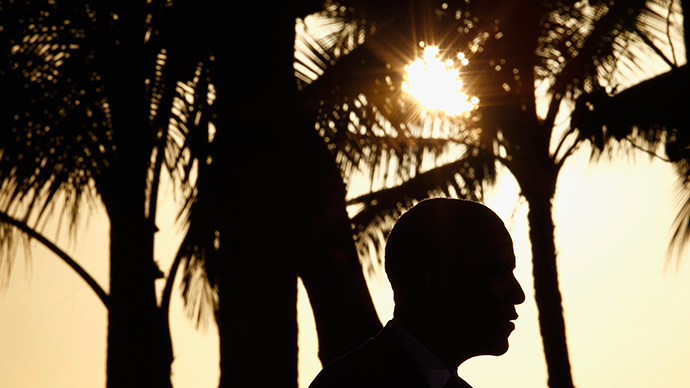 An initiative to rename a popular Hawaii beach for President Obama has faced criticism and was dropped following a public outcry over "historic and cultural sensitivity" and the fact that the high-profile but rare visitor has "done nothing" for the venue.
After hearing from the public, Honolulu council members have dropped their plans to rename a beach, popular with both President Barack Obama and the public, as a tribute to the first Hawaii-born president.
The proposal was introduced last week and would have allocated $500,000 to pay for renovation and beautification to accompany renaming Sandy Beach Park to President Barack Obama Sandy Beach Park.
Plans for 'Obama Beach' on Oahu a washout: http://t.co/3e9BEEft5Xpic.twitter.com/81XI8PJebX

— Yahoo (@Yahoo) October 8, 2014
The beach is known for its powerful waves and white sandy beaches, and is one of the most scenic spots on Oahu. Obama bodysurfed there while on vacation during his 2008 campaign, and during his childhood.
Council Chairman Ernie Martin, one of the resolution's sponsors, said in a statement that he heard historic and cultural sensitivity concerns from the community about the name change which led them to drop the idea. Some native Hawaiian communities didn't want to dilute their language by giving up traditional names.
Others objected because of their local connection like Waimanalo resident Kanaloa Kane who told KHON-TV2, a Hawaii TV station, "I don't think it's fair because, personally, he's done nothing for our beach over here. Maybe he did grow up here, but as a local, I've been surfing here for 10 years easy and I don't think it's fair."
But Beth Amann told KHON-TV2 she thought the money would help keep the beach in better condition, "I think it's definitely going to help for sure. That way, they're going to keep things more picked up probably, more improvements."
READ MORE:Cornel West calls Obama the 'Black face of the American empire
Ernie Martin and fellow Council member Stanley Chang were hoping to rename the beach because they are proud, as a state, to have a Hawaii-born president.
"We don't have any statues, monuments, anything named after him there," said Chang. Martin however agrees that there may be other public facilities more appropriate to honor the President.
Hawaii prohibits naming public places after people who are still alive. An attempt to rewrite the law in 2009 was rejected.