Astronauts perform NASA's long-delayed routine maintenance on ISS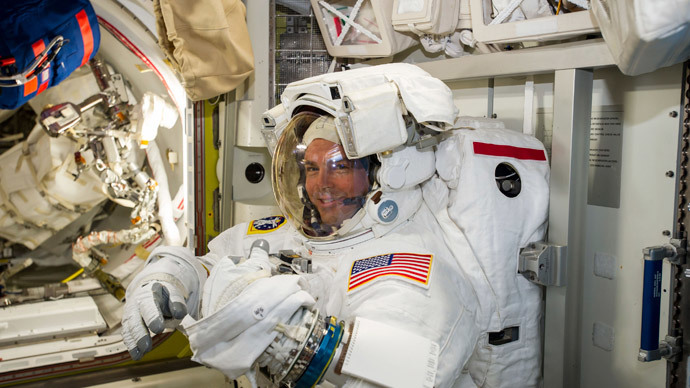 For the first time in over a year, a NASA astronaut has performed routine maintenance outside the International Space Station. It was a maiden spacewalk for both American Reid Wiseman and German Alexander Gerst who finished a job aborted last December.
The two men moved an old, broken cooling pump from a temporary location to permanent storage during a 6-hour trip outside the orbiting laboratory, 260 miles above Earth. The broken part had been temporarily stowed on the station's truss ever since an off-schedule spacewalk last December was scaled down before the astronauts finished the job.
During the extra-vehicular activity (EVA), they also installed a new relay system that will provide backup power options to the mobile transporter, which moves the large robotic arm around the outside of the space station, as well as replaced a camera light.
"I can't wait to see these pictures," Gerst said.
I do not have words to describe what we did today, but this photo gives a pretty good impression! @astro_reid#EVA27pic.twitter.com/yApwfMJ7fJ

— Alexander Gerst (@Astro_Alex) October 7, 2014
Gerst, designated as the second to leave the ISS (or EV-2), wore a suit with no stripes, while Wiseman, who left first (or EV-1), wore a spacesuit with red stripes. After the usual period of initial acclimation to the atmosphere – or lack thereof – outside the Quest Airlock of the space station and safety tether setup, the pair went their separate ways to begin to prepare to move the pump.
NASA Flight Engineer Barry Wilmore, who joined the crew in late September, operated the Canadian robotic arm in support of maneuvering Gerst during the course of the spacewalk and served as the spacewalk coordinator. The German astronaut slid the pump into its permanent slot – a large rectangular sheath formed by white protective blankets – and then bolted it down. "Nice work," Mission Control radioed.
Wiseman's exuberance was evident throughout the spacewalk, according to the Associated Press.
"Wow, looks like we've almost got a full moon out here. It's beautiful," Wiseman said as he emerged from the Quest hatch into the dark vastness far above the Pacific.
The view was reasonably INSANE during the #spacewalkpic.twitter.com/V8PbaPo2Rg

— Reid Wiseman (@astro_reid) October 7, 2014
The spacewalk, known as US EVA-27, was originally slated to occur in August, but was postponed due to concerns with the batteries in the Extravehicular Mobility Unit (EMU) spacesuits. New Long Life Batteries (LLBs), as well as a 3D digital printer, were launched to the ISS aboard the recent CRS-4 Dragon and the Soyuz TMA-14M/40S on September 25, and subsequently installed into the suits, NASAspaceflight.com reported.
In December, NASA's Rick Mastracchio and Michael Hopkins successfully removed the ammonia pump that had a faulty valve during an unplanned spacewalk. But Mastracchio, who was feeling cold and uncomfortable in his spacesuit, requested to go back without elaborating on particular problems. "I'd like to stow this old module and kind of clean up and call it a day," he said.
During the return, Mastracchio inadvertently turned on a water switch in the air lock, compromising his suit. For that EVA, both men wore extra safety gear as NASA was worried about the possibility of a helmet malfunction. Italian astronaut Luca Parmitano almost drowned last summer when his helmet was flooded with water from the cooling system of his suit. Since the July 2013 incidents, all astronauts have been equipped with water-absorbent pads in their helmets and had snorkels in their suits in case a helmet should start filling with water again.
#EVA27 ends 2:43pm ET. @Astro_Reid from @NASA & @Astro_Alex from @ESA finish in 6hrs, 13min. http://t.co/49DivKvNGopic.twitter.com/btab5XW4qo

— Intl. Space Station (@Space_Station) October 7, 2014
A follow-up spacewalk is scheduled for October 15, to complete more tasks that have been put on hold since NASA suspended all but the most crucial EVA missions after Parmitano's near-death experience. That spacewalk will be conducted by Wiseman and Wilmore. A week after that, two of the three Russians on board will perform a spacewalk on their country's side of the orbiting outpost. The Moscow-led spacewalks were unaffected by NASA's spacesuit troubles.