Texas Ebola patient fighting for life, new US drug 'all gone'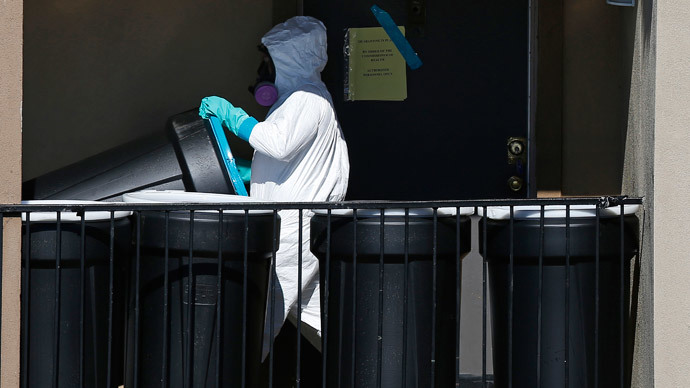 The first patient to be diagnosed with Ebola in the US is in critical condition at a Dallas hospital and is not receiving any of the new experimental drugs for the virus, which has killed over 3,400 people in Africa, media reports say.
Thomas Eric Duncan contracted the disease in Liberia and began to show symptoms after arriving in Texas two weeks ago, causing a panic that he could have infected another 10 individuals.
READ MORE: Dallas damage control: Ebola-positive man possibly infected 10 in Texas
Dr. Thomas Frieden, director of the US Centers for Disease Control and Prevention (CDC), said Duncan is in critical condition, adding that the patient is not receiving ZMapp – an experimental medicine – because it is "all gone" and is "not going to be available anytime soon."
The comments were made during a briefing with reporters on Sunday.
Speaking on another experiential drug produced by Canada's Tekmira Pharmaceuticals Corp, Frieden described the treatment as "difficult for patients to take."
The decision whether to give this drug to the patient will be made by his doctor and family members, but "access" to the medicine will be made available.
"As far as we understand, experimental medicine is not being used," Frieden said. "It's really up to his treating physicians, himself, his family what treatment to take."
Outbreak risks
Duncan's case has sparked fears of Ebola spreading across the US, particularly due to the fact that the Dallas hospital failed to diagnose the virus the first time around and sent the patient home with antibiotics.
"The issue of the missed diagnosis initially is concerning," Frieden told CNN's State of the Union. "We're seeing more people calling us, considering the possibility of Ebola – that's what we want to see. We don't want people not to be diagnosed."
Frieden added that it was unlikely for the disease to spread widely across the US.
US health officials are currently monitoring 10 quarantined people who had contact with Duncan. The individuals are considered to be "high risk," and are being checked at regular intervals for symptoms of the disease.
Another 38 were previously being observed as potential contacts. The original list of all the people Duncan had contact with included 114 individuals.
In the meantime, the state of Nebraska is getting ready to receive a US Ebola patient who also became infected in Liberia, Reuters quoted Nebraska Medical Center spokesman Taylor Wilson as saying on Sunday.
Wilson identified the patient as male, refusing to provide any further details. However, Reuters reported that the patient might be a freelance cameraman working for NBC News, Ashoka Mukpo, citing the father of the individual.
Symptoms of the deadly Ebola virus, which has hit the West African countries of Liberia, Sierra Leone, and Guinea, include fever, vomiting, and diarrhea. The disease is contagious and is acquired through contact with bodily fluids such as blood or saliva.
You can share this story on social media: