Harvard cops on alert as hundreds of students get 'shooting' threat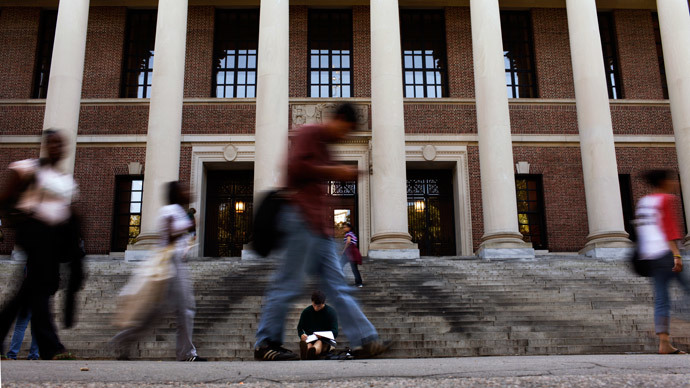 ​Harvard University police are tightening security around the Ivy League institution as they investigate emails delivered to hundreds of students and staff on Friday from an individual who threatened to visit the school "tomorrow" and shoot them.
The racially-charged messages, mostly delivered to students with Asian surnames, referred to the email recipients as "slit-eyes."
READ MORE: Police officer shot in Ferguson, two suspects at large
In a copy of the email forwarded to Harvard's campus newspaper, the Crimson, the author threatened to arrive at the university on Saturday at "11 clock" and "kill you individually."

Some students received a follow-up email containing the same text from a different email address. The letters contained various names, including Stephanie Nguyen, who claimed to live in the Boston area, as well as Eduardo Nguyen and Huy Dinh.
Unable to verify if the threats were authentic, the Harvard University Police Department is taking no chances, saying it would beef up its security presence around the university's campus, located in Cambridge, Massachusetts,
This is not the first time students and faculty at the elite university have experienced a security threat. In December, an evacuation occurred on the campus after the university received a bomb threat. It was later discovered that the sender was a student who was hoping to avoid sitting through a final exam.
Meanwhile, Boston residents still have fresh memories of the bombing near the finish line at the Boston Marathon in April 2013, which killed three people and injured over 200.