'Take back our tanks': Police can't get rid of military gear in Ferguson aftermath
Police departments that have been slammed for increased militarization through the Defense Department's surplus equipment program now have a new dilemma. Some of them have discovered they cannot give their unused war supplies back to the Pentagon.
The DoD's Excess Property Program ‒ also known as the 1033 Program ‒ furnishes police departments around the country with excess weapons, vehicles, and office supplies at no cost to the jurisdiction. But what has been criticized as the increasing militarization of police became a hot topic over the summer after riots broke out in Ferguson, Missouri and law enforcement responded with what many saw as excessive force and unnecessary weaponry.
The 1033 Program has become the subject of numerous reports and studies, as well as congressional inquiries. Several cities, including Davis, California, have told their police departments to get rid of military inventory, including mine-resistant ambush protected (MRAP) vehicles.
However, some jurisdictions have found that getting rid of their military surplus is easier said than done.
An officer with the Chelan County Sheriff's Department in central Washington says he would love for someone to take three amphibious tanks off his hands.
"We really want to get rid of these," Undersheriff John Wisemore told Mother Jones. "We've been trying to get the military to take them back since 2004."
The program began in 1991, when the War on Drugs was at its height. Excess military supplies were transferred to local law enforcement agencies, with preference given to those that would use the equipment for counterdrug and counterterrorism activities, the Washington Post reported.
Over the past eight years, the Pentagon grant program has loaned local law enforcement some 200,000 ammunition magazines, 94,000 machine guns, and thousands of armored vehicles, aircraft, land mine detectors, silencers, and grenade launchers ‒ all at the request of the local agencies themselves, Mother Jones reported, citing a spokeswoman for Sen. Claire McCaskill (D-Mo.), who has spearheaded a Senate investigation into the program.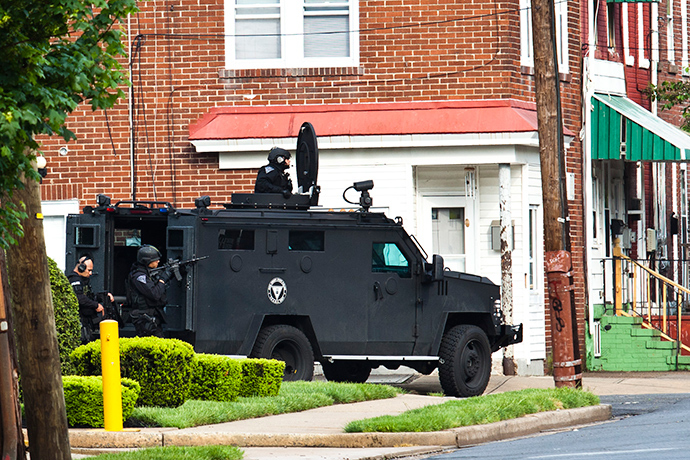 Even before 1033 came under increased media scrutiny over the summer, some forces were realizing they didn't need – or want – the weapons of war they had acquired from the Pentagon. In Chelan County's case, they had asked for an armored vehicle that would withstand bullets, and received the three tanks instead.
Agencies like Wisemore's are finding they can't return or trade large pieces of tactical equipment without Defense Department approval – and since the Pentagon technically still owns that equipment, they can't sell it, according to Mother Jones.
Meanwhile, nearly 200 state and local police departments in the United States have been suspended for losing equipment loaned to them under the 1033 program.
Derek Citty, superintendent of the Aledo Independent School District in Texas, was able to return rifles school police received from the program.
"When we received those weapons ‒ particularly the M16s ‒ our district, wisely I believe, made a decision that they did not fit into the philosophical scheme of what we were trying to do to protect our kids and our staff," Citty told Here & Now's Robin Young
Most of the time, the DoD doesn't want the equipment back.
"It's a low-cost storage method for them," Robb Davis, the mayor pro tem of Davis, Calif., told Mother Jones. "They're dumping these vehicles on us and saying, 'Hey, these are still ours, but you have to maintain them for us'."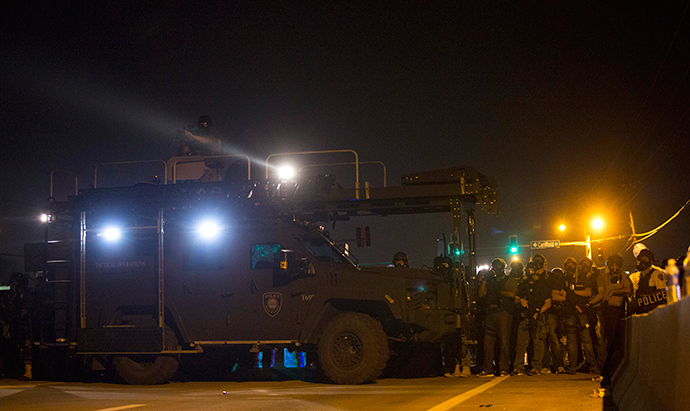 But the program does more than fill police departments' arsenals, according to Kathryn Blake, secretary for the Iowa fire marshal's office.
"Everybody only sees the weapons," Blake told KCRG. "What they're not seeing is, in the state of Iowa, we have a couple of boats for water emergencies. We have ATVs, office equipment. They've received computers, filing cabinets, you name it."
Police forces wishing to return their equipment must go through their state offices, like Blake's in Iowa, and cannot directly contact the Pentagon. However, the state offices can't help because the Defense Department had closed the portion of its website that allows police departments to request returns until October 1. Blake says she is overwhelmed by the responsibility, which is only part of her job description.
"For an additional duty, this has caused me a lot of gray hair," she said. "Last year this time, I'm just trying to keep my program moving. All of the sudden, I'm defending this program."
Ursula Kroener – a police spokeswoman for the San Diego school district police department who is trying to return an 18-ton MRAP – was told that the Pentagon halted returns partly because so many law enforcement agencies are clamoring to return their equipment, Mother Jones reported.
You can share this story on social media: