Ron Paul: Secessionism is 'grand American tradition'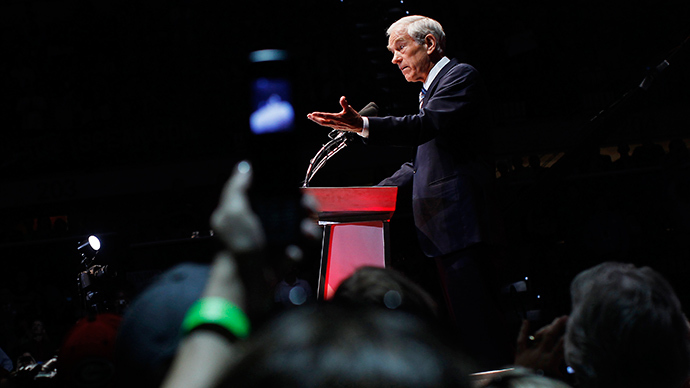 On the heels of a failed attempt in Scotland to separate from the UK, longtime American lawmaker Ron Paul is opening up about his take on secessionism in the United States.
Recent polling suggests that roughly a quarter of Americans support the notion of being able to have their state separate from the rest of the US, and Paul — the 79-year-old former Republican congressman and three-time presidential hopeful — says citizens who celebrate that inkling are expressing something inherently American.
"Americans who embrace secession are acting in a grand American tradition," the ex-lawmaker wrote in an editorial published on Sunday by the Ron Paul Institute for Peace and Prosperity. "The Declaration of Independence was written to justify secession from Britain. Supporters of liberty should cheer the growth in support for secession, as it is the ultimate rejection of centralized government and the ideologies of Keynesianism, welfarism and militarism."
Paul goes on to cite a recent Reuters/Ipsos poll that found roughly 23.9 percent of Americans strongly support or tend to support the idea of having their state break away from the US in acknowledging that the secessionist movement isn't something solely making waves in Scotland right now, where residents voted earlier this month 55.3 percent to 44.7 percent in favor of staying with the UK.
"Even though it ultimately failed at the ballot box, the recent campaign for Scottish independence should cheer supporters of the numerous secession movements springing up around the globe," Paul wrote on his website.
"The possibility that people will break away from an oppressive government is one of the most effective checks on the growth of government. It is no coincidence that the transformation of America from a limited republic to a monolithic welfare-warfare state coincided with the discrediting of secession as an appropriate response to excessive government," he added.
Following up with the National Journal this week with respect to his op-ed, Paul said he was both "real pleased" and "a bit surprised" to learn that secessionist movements in the US exist to a greater degree than he had figured.
"It's something that I think is going to grow, because the failure of the federal government is going to get much worse," he said. "When the bankruptcy evolves, and maybe some of these pension funds are confiscated, and the wars never end, and bankruptcy comes forth, people [will say], 'Hey, we're getting a bad deal from this. Why don't we leave?' "
"I think it's inevitable people wanting to leave will be there, and the numbers will grow," Paul added.
According to the recent Reuters/Ipsos poll, more than one-third of residents of the American southwest that were surveyed said they support seceding.
"Texas has everything we need. We have the manufacturing, we have the oil, and we don't need them," Mark Denny, a 59-year-old retired Republican from near Dallas, Texas told Reuters. "I have totally, completely lost faith in the federal government, the people running it, whether Republican, Democrat, independent, whatever," he said.
"I better check out and see who's running Austin before we decide about that," Paul said of a possible Texas secession when speaking to the National Journal.
You can share this story on social media: