Wrist-mounted camera drone set to take off… for selfies (VIDEO)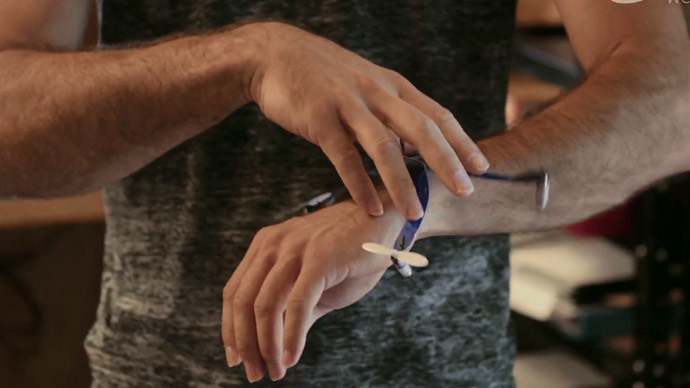 Love taking selfies but hate your arms getting in the way? Have no fear! A new bracelet camera drone called Nixie will allow you to capture every moment of your life without having to stop to record the action.
The innovative little quadcopter prototype is the brainchild of Christoph Kohstall, a researcher at Stanford University.
Christoph, a self-described lifelong "tinkerer," said the idea was to create a flying wristband that can bring "aerial photography to you."
Powered by an Intel Edison chip and four tiny rotors, Nixie wraps around your wrist like a watch and can be deployed with the snap of a finger.
"You should be able, with a gesture, to tell the quadcopter to unfold. Then it's going to take off your wrist, it knows where you are, it turns around, takes a picture of you, comes back, you can catch it from the air, and put it back on your wrist."
The design was a finalist at Intel's "Make it Wearable Challenge," a self-described "global initiative to inspire ideas and fuel innovation that will evolve personal computing in exciting new ways."
The ten finalists received $50,000, on top of increased guidance mentorship, and support from some of the industry's brightest minds. The winner, to be announced at the Make It Wearable Final Event on Nov. 3, will receive $500,000.
You can share this story on social media: