US senators demand probe into leaked Goldman Sachs tapes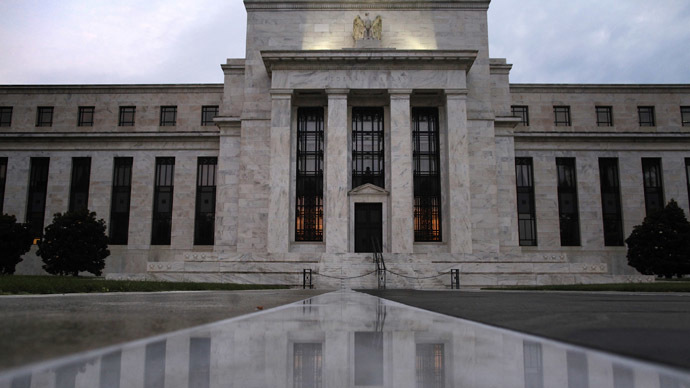 US Senate Banking Committee members are calling for hearings and full investigation into alleged ties between Federal Reserve supervisors and officials at Goldman Sachs, a bank the Fed was supposed to be policing.
Congress must hold "oversight hearings on the disturbing issues" raised by the secretly recorded conversations between the Fed and Goldman officials, Senator Elizabeth Warren (Mass, D) said on Friday. Portions of recordings from 2011 and 2012 were recently made public, apparently showing unwillingness by some Fed supervisors to both demand information from Goldman Sachs and criticize its conflict-of-interest policy.
READ MORE: Wall Street gets former NSA chief to help banks create 'cyber war council'
"When regulators care more about protecting big banks from accountability than they do about protecting the American people from risky and illegal behavior on Wall Street, it threatens our whole economy," Warren said in an emailed statement to Reuters, adding that the issues raised by the whistleblower should be addressed when Congress returns in November.

Joining in and requesting a "full and thorough investigation" into the allegations is another Democrat Sherrod Brown, who also sits on the Banking Committee. "For too long, too many financial regulators have been too cozy towards the very industry that they are meant to police."
READ MORE: Janet Yellen to become the first female US Fed boss
The tapes were recorded by a former New York Federal bank examiner, Carmen Segarra, who was an embedded supervisor with Goldman Sachs. She began the recordings when she became worried about what she was witnessing among her colleagues and at Goldman Sachs over a deal with Banco Santander. A record was needed in case events were disputed. Nearly seven months into her work Segarra was fired in May 2012, after as she claims she refused to alter a critical assessment of Goldman's legal and compliance units.

After failing to sue the bank for unlawful termination, Segarra provided 46 hours of tapes to the investigative news outlet ProPublica and the public radio show, "This American Life."

In a long meeting recorded the week before Segarra was fired, according to ProPublica, her boss repeatedly tried to persuade her to change her conclusion that "Goldman was missing a policy to handle conflicts of interest." Insisting that her findings were submitted, she was allegedly ready to accept them being overruled by superiors, but "professionally" couldn't agree with her boss.
READ MORE: The biggest fall: Lehman Brothers, 5 years on
The New York Fed, which is already under scrutiny from lawmakers over its ties with the banking industry, however claims the decision to terminate Segarra's employment "was based entirely on performance grounds."

In a statement posted on its website on Friday, the Fed wrote "the New York Fed works diligently to execute its supervisory authority in a manner that is most effective in promoting the safety and soundness of the financial institutions it is charged with supervising."