Wyoming sheriff insists grenade launcher is key for riot control in 25-inmate jail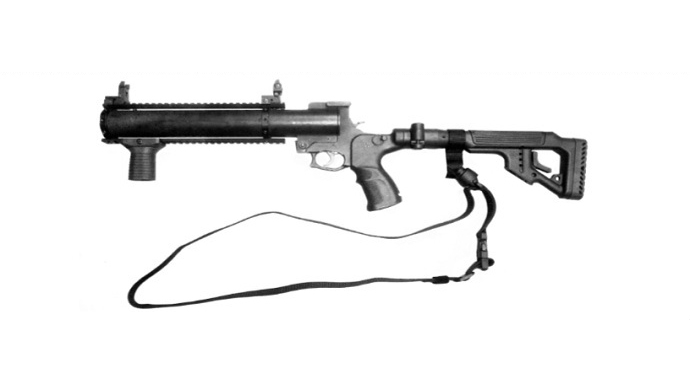 A grenade launcher is the best way to ensure peace and protect a 25-inmate jail, according to a Wyoming sheriff. It is the third such weapon owned by the Goshen County Sheriff's Office in the past 65 years, though none have ever been used.
Sheriff Don Murphy told the Casper Star-Tribune that the county bought the grenade launcher from Wyoming weapons manufacturer Defense Technology.

"We would use it in situations when less-lethal force is justified to get the situation under control," Lt. Jeremy Wardell said. "That tool gives us an option not to use lethal force."

Wardell said the weapon is similar to pepper spray or a Taser. Officials said deputies could use the launcher to fire tear gas in a hostage situation. But Goshen County has not had a large fight or break out in 15 years, according to Wardell, who oversees the jail.

The riot-control weapons provide temporary incapacitation through blunt trauma, according to the Federation of American Scientists. The 40-millimeter weapon files a single grenade.

"It's just another option in that middle area between verbal and lethal force," Wardell said. "We have the ability to use it in the jail as well."

The grenade can also fire rubber pellets during a prison riot, Murphy said. But to say such brawls are an uncommon occurrence in the 25-person jail would be an understatement.

"I've worked for the agency for 16 years, and we've never had a riot we couldn't control," Wardell admitted to the Star-Tribune.

Linda Burt, executive director at the American Civil Liberties Union (ACLU) of Wyoming, condemned the department's ownership of the weapon.

"Just because they haven't used them doesn't mean they don't plan on using them," she said. "I think the problem has been more about the fact that the federal government has encouraged people to take this equipment."
She believes the weapon would provide more hindrance than help.

"It changes the attitude of not only the population but of the police," Burt said. "It turns that law enforcement officer into a soldier instead of a police officer out there to serve and protect. The community then becomes an enemy."

Goshen is the only county in the state that's listed by the Department of Defense (DoD) as having received a grenade launcher, the Star-Tribune reported. But several other Wyoming counties have participated in the DoD's Excess Property Program, better known as the 1033 Program.

"Converse County has four armored vehicles and Albany County has one. Sweetwater County has 60 assault rifles and Fremont County has 29," Burt wrote in a Star-Tribune op-ed. "Natrona County has four armored vehicles and up to 60 assault rifles; Laramie County has an armored vehicle, assault rifles, flak vests and night vision goggles. Washakie, Big Horn and Hot Springs Joint Tactical Emergency Response Team acquired an armored vehicle last year."

The increasing militarization of American police departments has come under heavy criticism since police responded with overwhelming force and military equipment to riots and protests over the fatal shooting of an unarmed 18-year-old by an officer in Ferguson, Missouri in August.

In June, an ACLU report titled 'War Comes Home: The Excessive Militarization of American Policing' found that police departments with military weapons became "hyper aggressive" in their approach to maintaining security on the streets of America.

Goshen County has a population of 14,000. It received its first grenade launcher, a 37mm, in the 1950s from Federal Signal, Murphy said. The weapon was never used, yet the county then received an M79 single-shot grenade launcher from the military surplus program. Wardell said the county does not have records on the second weapon, as it was later returned to the federal government.
You can share this story on social media: