Senior Afghan officers missing from Mass. training exercises found trying to cross into Canada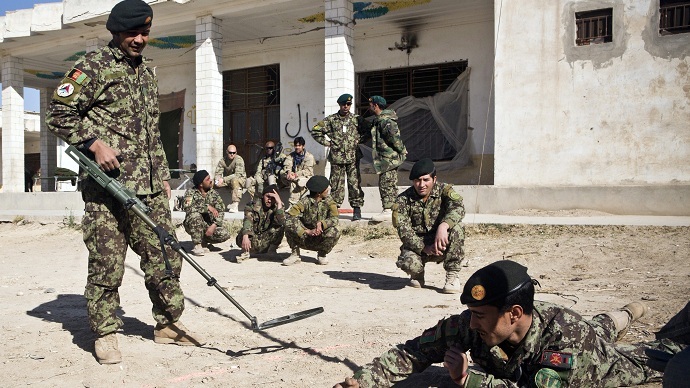 ​Afghan National Army soldiers training in Massachusetts went missing over the weekend were found trying to cross the border into Canada on Monday. The disappearance occurred just days after two Afghan policemen disappeared in Washington, DC.
The three senior military officers were participating in a US Central Command Regional Cooperation training exercise at Joint Base Cape Cod in Massachusetts. They arrived at Camp Edwards, a National Guard training facility on September 11, and were last seen Saturday during a chaperoned trip to the Cape Cod Mall in Hyannis, US military officials said.
Massachusetts National Guard spokesman Lt. Col. James Sahady said the three men were reported missing on Saturday night.
"They didn't report back [to the base]," Sahady told the Cape Cod Times. "There is no indication they pose a threat to the public."
The three men were identified as Maj. Jan Mohammad Arash, Capt. Mohammad Nasir Askarzada and Capt. Noorullah Aminyar. They had permission to leave base on Saturday, an off day during the two-week exercise.
Missing Afghan soldiers from Cape Cod caught trying to enter Canada http://t.co/o26OuzzAZkpic.twitter.com/VbCKhfpb1r

— New Bedford Guide (@NewBedfordGuide) September 22, 2014
"They had the freedom to come and go," Sahady said. "If they were off-duty, they could go to McDonald's or the mall."
The officers were taken into custody when trying to enter Canada at the famed Rainbow Bridge border crossing near Niagara Falls, New York on Monday. The men told customs officials there they were refugees, a high-level law enforcement source told WCVB's Karen Anderson. According to NBC News, Canada has more liberal asylum policies than the US.
Several officials had speculated that the men were trying to find a way not to return to their home country.
Three Afghan Soldiers Remain Missing From Camp Edwards on Cape Cod http://t.co/OzAuMSDCQxpic.twitter.com/PAD4RZxLQw

— Hilary Sargent (@lilsarg) September 22, 2014
"There's a lot of speculation that within the military they maybe be trying to defect," Gov. Deval Patrick (D-Mass.) said.
Col. Timothy Alben, superintendent of the Massachusetts State Police, told NBC News before the Afghans were found, "There's no reason to think they have nefarious intent, and no information to suggest that public safety is in question. But there's a pause for concern, because we want to make sure this wasn't planned, and we want to see if anyone has helped them."
Alben added that the men have visas that will remain valid for the next several days.
JUST IN: Missing Afghan soldiers found trying to enter Canada near Niagara Falls http://t.co/SqT3XengVZpic.twitter.com/16Y6Xo2hvf

— NBC News (@NBCNews) September 22, 2014
A similar disappearance happened the previous weekend, when two Afghan nationals who were training with the US Drug Enforcement Administration vanished during a visit to Washington, DC.
Mohammad Yasin Ataye, 22, and Mohd Naweed Samimi, 24, were part of a group of 31 Afghan police officers participating in a five-week intensive DEA training program in Quantico, Virginia to combat drug trafficking. The two men were sightseeing in the District's Georgetown neighborhood, and were reported missing when they missed the departure for an evening boat ride on the Potomac River.
"They are among the best and brightest of their country and that's why they were chosen to train at Quantico," said Rusty Payne, a DEA spokesman. "We are very concerned for their safety."
The DEA said it collected everyone's passports and visas when they arrived, as a precaution, WJLA reported.
Two missing Afghan police officers, who were training in the US, were reportedly found in Buffalo. #GoodMorning7pic.twitter.com/dcC3yjgRls

— Rachel Elzufon (@RachelElzufon) September 22, 2014
The two police officers were found Thursday in Buffalo, New York. Authorities believe they were trying to reunite with family.
"This is a very, very rare occurrence. We wouldn't bring anybody to the U.S. if they posed a security threat," Payne said, according to WIVB. "I suspect there will be some oversight but I don't think this represents a significant problem."
Buffalo is about half an hour from Niagara Falls.