Police release footage of sovereign citizen's assault on Georgia courthouse (VIDEOS)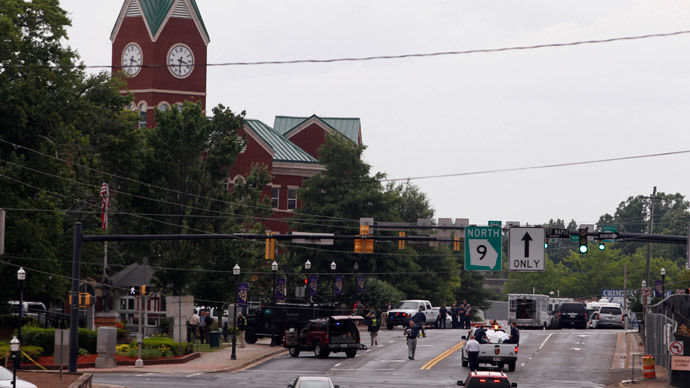 Officials have released surveillance camera footage an incident from Georgia last year that ended with a self-described 'sovereign citizen' dying in a gun battle with the police.
On September 11, the Forsyth County Sheriff's Office released footage from the June 6, 2013 ordeal in which Dennis Ronald Marx died after opening fire on an officer who first attended the crime scene.
At around the 17-minute point, the surveillance clip shows Marx driving his sports utility vehicle onto the sidewalk outside of the Forsyth County Courthouse. An officer, identified as Deputy Daniel Rush, is then seen running towards a tree line from where he then engaged in a gun fight with Marx while the suspect tosses tear gas canisters and other smoke-emitting devices from his SUV.
Additionally, the Associated Press reported previously that Marx's SUV contained two handguns and equipment that could have been used to take hostages, like zip-ties.
"He came in there with the purpose of occupying the courthouse," Sheriff Duane Piper told the Forsyth Herald prior to the release of the surveillance video. "It was a full-frontal assault."
According to the paper, Marx was wearing a gas mask and equipped with an AR-15 when he arrived at the courthouse. Barely four minutes after he parked his SUV, however, the just-released video reveals that roughly a dozen officers approached the vehicle and removed what appears to be Marx's lifeless body. He was later officially pronounced dead, and Deputy Rush suffered a broken fibula and tibia.
Crystal Ledford, a reporter for Forsyth News, wrote last week that the Georgia Bureau of Investigation and the District Attorney's office are still investigating the incident.