'His hands were up!' New footage shows Ferguson witnesses reacting to teen's death (VIDEO)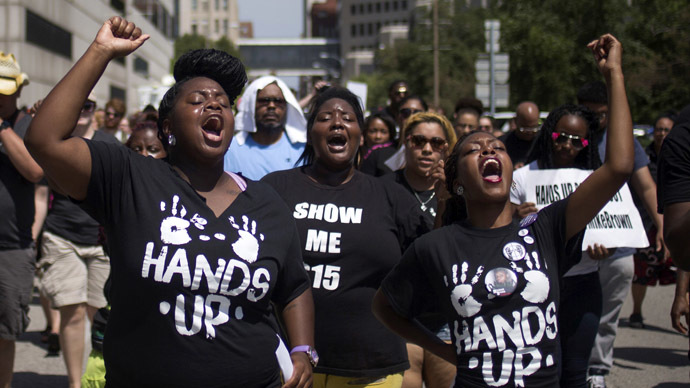 New footage of the moments just after Ferguson, Missouri teenager Michael Brown was killed by a local police officer indicates that a witness on the scene said the unarmed 18-year-old's hands were raised while he was fatally shot.
The video, released by CNN, shows several witnesses gathering in the vicinity of Brown's slaying, attention focused on the spot where Ferguson police officer Darren Wilson shot and killed the unarmed teenager early last month, the network reported.
"He had his fucking hands in the air," the man, called a contractor working in the area by CNN, shouted. The worker, who said he was not from Ferguson and did not want to be identified, told CNN the teen's "hands were up" when he was killed.
"The cop didn't say get on the ground. He just kept shooting," the man told CNN. He added that he saw Brown's "brains come out of his head," again emphasizing that "his hands were up."
The man's fellow construction worker, seen in the video next to the first man, said Brown was running away from the police car.
Brown "put his hands up," the second contractor said, and "the officer was chasing him."
Their account aligns with what other witnesses have said: that Brown's hands were raised in the air when he was killed.
The contractors said they did not see how the incident began.
The video was filmed on a cellphone by an unidentified witness, CNN reported.
Legal experts told the network the video is going to be valuable evidence against Wilson, as it is a spontaneous recounting of the incident.
"They're saying that he was running from the police officer and that his hands were up," said Sunny Hostin, a CNN legal analyst and former federal prosecutor. "I don't know what other witness testimony at this point or account we have to hear. The bottom line is having your hands up is the universal sign for surrender."
The killing of Brown, a young black man, by a white police officer in early August set off a fierce wave of civil unrest in Ferguson. The city has a majority-black population, yet the city's leadership and officers of its police department are nearly all white.
The US Justice Department announced last week that it was opening an investigation into the Ferguson Police Department, following accusations by Ferguson residents that the police practice racial profiling and other discriminatory measures. A local grand jury is investigating the killing of Michael Brown in an effort to determine if officer Wilson acted in self-defense.
You can share this story on social media: